Writer Behind 'Die Hard 6' a.k.a. 'Die Hardest' Explains How the Project Came to Be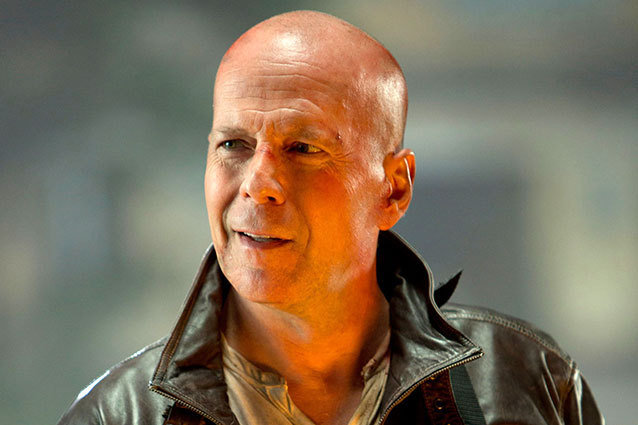 This morning, word arrived that relative unknown screenwriter Ben Trebilcook would be taking a crack at a sixth Die Hard film. According to a report by Total Film, Trebilcook was recruited by A Good Day to Die Hard consulting producer Larry D. Webster to pen a treatment for the film, tentatively titled Die Hardest. Bruce Willis' early hints that a sixth installment of his John McClane franchise looked more and more concrete.
20th Century Fox was quick to respond to the announcement, stating that there was no connection between the studio and the Trebilcook/Webster project. But if people were talking up a potential sequel in a formal interview setting, clearly something is brewing. To find out exactly what, Hollywood.com reached out to Trebilcook, who was able to clarify where Die Hardest stands in the fuzzy world of Hollywood development.
Trebilcook was unable to comment on whether his Die Hard 6 movie was technically a "spec script," written outside of the studio system in hopes of attracting a talent and the studio, but he does say he has the support of a few unnamed individuals involved with the franchise. "It's a highly detailed treatment and there isn't yet a full script," Trebilcock says. "A couple of parties connected to the series have given it their thumbs up and are flying my flag, too, which is such a boost; this includes Larry. He knows full well that it has to reach King B (Bruce Willis) and Alex Young, at present. It wasn't THE Die Hard related project that I thought was going to be talked about, funny enough, but the Net is a funny place."
Webster, whose background is mainly in post-production and could not be reached for comment at the time of publication, met Trebilcook after the writer wrapped a sci-fi movie called Death Machine. The producer came on board Trebilcook's next movie, Knockout (which he says pays "brilliant homage to Bruce Lee's Game of Death and the fight he had with Abdul Kareem Jabbar"). Eventually, the duo started talking Die Hard — an obsession of Trebilcook's.
Trebilcook says that in 1998, he wrote several action spec scripts for Die Hard 4 (a title that eventually became Live Free or Die Hard). Being attracted to the original on a number of levels — Trebilcook describes his own father as a "a real-life version of" John McClane — his path diverted from the franchise when he caught the eye of Tom Cruise and Paula Wagner's production company. A Die Hard movie reentered his thinking when Webster connected him with people on A Good Day to Die Hard.
"Larry and an undisclosed colleague associated to the franchise and I discussed Die Hard 6 and another Die Hard project," Trebilcook says. "King B has publicly said he'd do another, so I said I'd pen a treatment and we'll see what and where we can go from there."
Trebilcook says he's gone through a number of story ideas for a sixth movie that have managed to circulate around the Internet. The main one involved a bridge in Indonesia that linked his proposed sixth film to the original. "It does fit the typical, but tired 'Die Hard on a…' mold," he says of the abandoned concept. "That one, if anyone remembers, from the first movie Joe Takagi of Nakatomi Corp briefly discusses a model of a bridge to Alan Rickman's Hans Gruber. I thought that'd be a very cool link and have relatives of Takagi take on the bridge building project in Indonesia. Whack in a bit of jungle, some hostiles, all on a bridge, but it just didn't make sense." He says that idea is long gone. As described in the Total Film article, his script may send McClane to Japan. "The one I've done makes just perfect and incredible sense."
And as far as the title Die Hardest? Trebilcook believes, after wrestling with a few ideas, it's the one that lives up to his concept. "I like 'Cross My Heart and Hope To Die Hard'. I think one draft I wrote was 'Die Hard 6 Feet Under'. 'Die Hardest' refers to exactly that. Doesn't mean it's the end, but should be for the time being at least," he says.
Is Die Hard 6 on the way? Trebilcook did not comment on Webster's influence over the direction of the franchise or whether the detailed treatment would wind up in front of the people who can pull the trigger and make it happen. What is true is that a die hard Die Hard fan is taking a stab at making a fourth sequel to Willis' big name franchise a reality. But for now, it's a dream on paper.
Follow Matt Patches on Twitter @misterpatches
More:
What Makes 'Die Hard' a 'Die Hard?'
In Russa, 'A Good Day to Die Hard' Watch You
'Die Hard' Vs. 'Reindeer Games
---
From Our Partners:


Beyonce Flaunts Bikini Bod for H&M (Celebuzz)


33 Child Stars: Where Are They Now? (Celebuzz)