Why Is 'Die Hard' A Christmas Movie?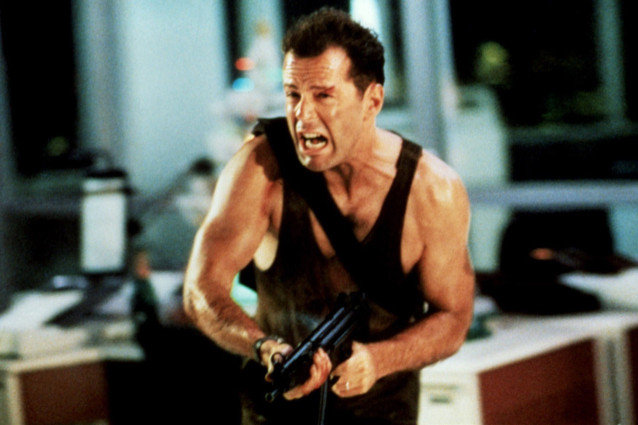 20th Century Fox via Everett Collection
Think of the most iconic Christmas movies. A Christmas Story, The Muppet Christmas Carol, Love Actually and Home Alone are probably coming to mind, along with classics like White Christmas and It's A Wonderful Life. But another film that many movie fans include in the list of Christmas classics is Die Hard, the 1988 action film takes place in Los Angeles during an office Christmas party attended by John McClane (Bruce Willis). 
It's not your typical holiday movie, but every December the debate about whether Die Hard can be considered a Christmas movie is rekindled. The Frisky and Buzzfeed recently argued that there's no way Die Hard is a Christmas movie. Holiday movies don't have terrorists/burglars (false — Home Alone) and taking place near Christmas doesn't qualify a film as a holiday movie by nature.
They're right, but think about those typical holiday films, what makes them Christmas-y? A Christmas soundtrack and/or holiday decorations? Check. The morals of Christmas: peace on earth and goodwill toward men? Check. The importance of family? Check. A romance plot? Check. 
Sure, the fact that John is fighting greedy Christmas-ruining burglars with machine guns and C-4 might be a bit ostentatious for a holiday flick, but the message of the movie is that good will triumph over evil. Besides, Hans Gruber (Alan Rickman) is like a scarier version of Scrooge, who also has a gun.
Whether you like Die Hard or not, there are plenty of arguments for and against it being considered a Christmas movie, but can we all as a society agree it's a holiday film and be done with it?