Which Director Has the Best Acting Entourage?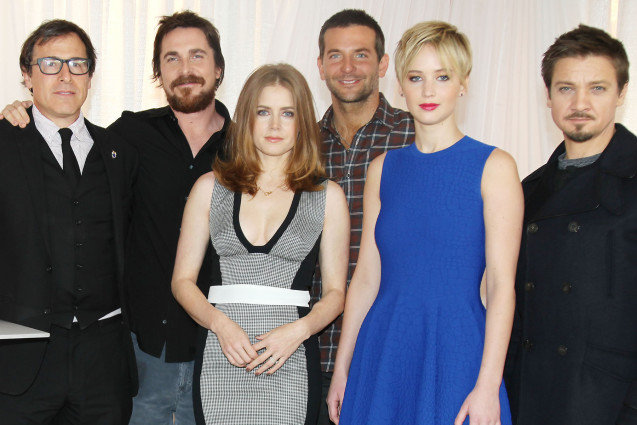 CTMG
It's no secret that directors often cast the same actors over and over in different projects. After all, they've made a strong connection, proven that they work well together, and have become like a cinematic family. So, when David O. Russell needed to cast his latest film, American Hustle, he didn't have to look far for talent; he chose actors he had previously directed in the Oscar-nominated films The Fighter and Silver Linings Playbook. With that much talent and camaraderie on board, its no wonder that the film has been getting a great deal of awards buzz, and even earned 7 Golden Globe nominations. 
But Russell isn't the only director to have found success with a particular combination of actors. In fact, some of the most critically and financially successful films in recent years have come from similar teams. In honor of American Hustle hitting theaters this weekend, we've decided to rank five famous director and actor teams in order to determine who has the most successful partnership of them all. 
5. David O. Russell: Amy Adams, Christian Bale, Bradley Cooper, and Jennifer Lawrence. Though the newest addition to the list, the Russell and Co. partnership has already had a great deal of critical success. Adams and Bale starred in 2010's The Fighter, which earned Russell and Adams each an Oscar nomination, and a Best Supporting Actor win for Bale. Russell followed that up with last year's Silver Linings Playbook, for which he was nominated for Best Director once again, along with Cooper's Best Actor nod and Lawrence's Best Actress win. Despite that, they still rank the lowest on our list, as they've been a team for the shortest amount of time. Sure, everything they've touched has turned to Oscar gold so far, but it's still too soon to tell whether or not their partnership will stand the test of time. 
By The Numbers: 
Number of films made together: 2 for everyone
Years of Partnership: 3 (Adams and Bale), 2 (Cooper and Lawrence)
Highest grossing film: Silver Linings Playbook, $132 million
Number of Oscar nominations: 3 (Russell), 1 (Bale, Lawrence, Adams, Cooper)
Number of Oscar wins: One each for Lawrence and Bale
Most Critically Acclaimed Film: Silver Linings Playbook, 92%
4. Christopher Nolan: Michael Caine, Marion Cotillard, Joseph Gordon-Levitt, and Cillian Murphy. Nolan's team is by far the most financially successful, due primarily to all of these actors playing significant roles in the Batman franchise. When it came time for Nolan to branch out from superheroes into an original film, Inception, he took along Caine and Murphy, both of whom have worked with the director for a long time. It was working on Inception that he discovered Cotillard and Gordon-Levitt, who he promptly cast in the final Batman film. But despite their massive box office success, this team earns the fourth spot on our list due to Cotillard and Gordon-Levitt being such recent additions. 
By The Numbers: 
Number of films made together: 6 (Caine), 4 (Murphy), 2 (Cotillard and Gordon-Levitt)
Years of Partnership: 8 (Caine and Murphy), 3 (Cotillard and Gordon-Levitt)
Highest Grossing film: The Dark Knight, $553.3 million
Number of Oscar nominations: 2 (Nolan)
Number of Oscar wins: 0
Most Critically Acclaimed Film: The Dark Knight, 94%
3. Wes Anderson: Bill Murray, Jason Schwartzman, and Owen Wilson. Though this team is neither the most critically or financially successful group on the list, they earn their number-three spot by being one of the more iconic groupings in cinema. Whenever Anderson makes a new film, it's guaranteed that these actors will appear in some capacity, and they have come to epitomize the director's cinematic style and tone. With nearly 20 years of work under their belts, there's no doubt that this team will be one that endures for much longer; with Anderson's films gaining more and more critical and public attention, we're sure it's only a matter of time before they catch up to the other teams in both awards and box office returns. 
By The Numbers: 
Number of films made together: 7 (Bill Murray and Owen Wilson), 5 (Jason Schwartzman)
Years of Partnership: 17 (Wilson), 15 (Murray and Schwartzman)
Highest Grossing film: Moonrise Kingdom ($45.5 million)
Number of Oscar nominations: 3 (Anderson)
Number of Oscar wins: 0
Most Critically Acclaimed Film: Moonrise Kingdom, 94%
2. Tim Burton: Helena Bonham Carter and Johnny Depp. This team is a good example of the adage "too much of a good thing." Although fans have enjoyed seeing Bonham Carter and Depp onscreen together for years, Burton's insistence on working primarily with these two actors has resulted in the partnership becoming something of a punchline, and has left many people blaming the recent decline in the quality of Burton's films on his reluctance to embrace new actors or styles. Despite this, the three of them have become one of the most iconic teams in film history, and have enjoyed a great deal of both critical and box office success over the time that they have spent working together. Depp and Burton also hold the distinction of having made the most films together out of all of the teams on our list, and many of those films are considered to be modern classics. 
By The Numbers: 
Number of films made together: 8 (Depp), 7 (Carter)
Years of Partnership: 23 (Depp), 12 (Carter)
Highest grossing film: Alice in Wonderland ($334 million)
Number of Oscar nominations: 0
Number of Oscar wins: 0
Most Critically Acclaimed Film: Sweeney Todd, 86% 
1. The Coen Brothers: Steve Buscemi, John Goodman, Frances McDormand, and John Turturro. It makes sense that the director(s) with the most successful team of actors would, themselves, be a team. Over the course of almost 30 years — the longest partnership of any team on the list — Joel and Ethan Coen have directed their group of favorite actors in some of the best and most critically acclaimed films in recent history. They also hold the record for the most Oscar nominations any grouping on this list has received, and that's without including the clean sweep of awards that No Country For Old Men earned in 2007. They've also got the chance to put more distance between themselves and the other teams on this list this year, as the Goodman-starring Inside Llewyn Davis has been getting a lot of awards attention. 
By The Numbers: 
Number of films made together: 6 (McDormand, Goodman, Buscemi), 4 (Turturro)
Years of Partnership: 29 (McDormand), 26 (Goodman), 23 (Buscemi and Turturro)
Highest Grossing film: Burn After Reading, $60 mill
Number of Oscar nominations: 5 (Coen Brothers), 1 (McDormand)
Number of Oscar wins: One each for the Coen Brothers and McDormand. 
Most Critically Acclaimed Film: Fargo, 94%