Director Jay Duplass: Jason Segel Is 'A Magical Human Being'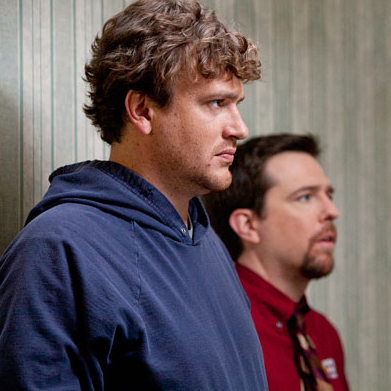 For years now, Jason Segel has been rumored to be a mystical being, sent to Earth to enlighten us unto the mysteries of the universe. Although the actor has been elusive when it comes to this topic, writer/director Jay Duplass has confirmed that his Jeff Who Lives at Home star is, in fact, "magical." Duplass spoke with Hollywood.com about his most recent film (now on Blu-ray) which stars Segel as a wayward existentialist, sharing insight into his own experiences that inspired the story and character. He also opened up about the power of the Segel, and how his magic affected the movie, and might possibly change the way people understand reality.
Duplass explained that the character of Jeff, a wayward existentialist, was inspired by his experiences living around people of the sort in his younger days. "The seed of it really came from us living in Austin, Texas in the '90s and watching lots of brilliant University of Texas students movie laterally from college into … apartments, and working part time jobs in order to contemplate the universe. Most people call them slackers, but Mark and I found them — in particular, the ones we were friends with — entertaining and interesting and riveting. Honestly, idealistic."
The director continued, discussing how he became fascinated with the idea of telling a story through one of these individual's lenses: "What if they went on a grand adventure — a King Arthur, Camelot style adventure — in their world, which is, like, the strip malls and suburbs of Baton Rouge. And what if some of the stuff started to unfold. Like, some of their theories about the universe started to unfold?"
As vivid as the character might have been at the start, Duplass admits that star Segel contributed a great deal to his development.
"A lot of times when you're trying to cast a role, you feel like, 'Well, [the actor is] about 85 percent of who this character is.' I feel like Jason took it to 100 percent. He became the person, and added so much more to it than we ever could have imagined." Duplass added, "He's kind of a magical human being in general … He reignited the freakin' Muppets franchise. He makes magic! I think some quality of him took it to an extra special level, which made people hope — not just hope, but kind of believe that maybe this magical universe that he believes in is true, because Jason is that way."
In addition to the forthcoming film The Do-Deca Pentathlon, the Duplass brothers have some other interesting projects on their plate, including a remake of the 1978 romantic comedy/drama Same Time, Next Year. "That's a movie that Mark and I have probably watched twenty times, and are weirdly obsessed with. I don't know what it is or why we were doing this, but in the early '80s, we were watching Same Time, Next Year, we were watching Kramer vs. Kramer, Ordinary People." Not exactly the same kinds of films their friends were watching at the time: "We were watching all of these hard hitting relationship dramas, when all of our friends were obsessed with Empire Strikes Back. We were like, 'This is infinitely more soul-searching and deep.' We were, I don't know, nine and six years old, respectively, watching these movies."
And from this fixation, the project was born: "We had been talking to Scott Rudin about trying to do something together. He got a total kick out of our obsession with those movies … So, when he brought up the idea, we were like, 'Dude, you have no idea how many times we've seen this movie.'"
You can get Jeff Who Lives at Home, which also stars Ed Helms and Susan Sarandon, on Blu-ray now, and catch The Do-Deca Pentathlon in limited theaters on July 6.
[Image Credit: Indian Paintbrush]
More:
Jason Segel and Ed Helms Seek the Meaning of Life in 'Jeff Who Lives at Home' Trailer
Jason Segel Reveals Post-Apocalyptic 'HIMYM' Ending — VIDEO
Jason Segel Opens Up About Dating Michelle Williams