'Django Unchained' Added to China's Long List of Films Deemed Not Suitable for the Public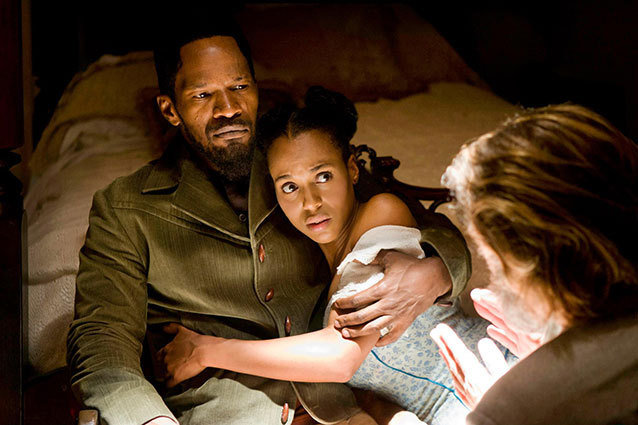 Here in America, we have a bounty of films from which to choose for our cinematic outings — films filled with all the gore, violence, sexual content, and stirring political themes you can ask for. But we take this luxury for granted, as the residents of certain other nations are subject to more selective release platters. Take China, for instance. Following an announcement that it would be screening Django Unchained for select audiences, China abruptly pulled the Quentin Tarantino picture from release. Very abruptly. Like, during the screening.
Only a few seconds into China's first showings of the Civil War-era picture on Thursday, cinemas halted Django's broadcast, citing "technical problems" as motivation, with Reuters reporting that industry figures cited the film's exhibition of nudity as the rationale behind the action. As an official at one Shanghai-based theater stated, "We got the notice from our headquarters around 10:00 a.m. this morning but it was too late to cancel two viewings. We were only told that it was due to some technology problems and were told to cancel it. They didn't tell us when the film would be shown again."
While Django might well return to China's theaters (plausibly with a few additional edits), its banishment from the country's release plate would hardly make the Tarantino film an outlier. China has kept quite a few well-known tiles out of reach of its viewing public…
Ben-Hur: Reportedly, China disallowed release of the classic Charlton Heston picture due to its overt embrace of Christian themes.
The Departed: Thanks to a single line about the Chinese government's intention to attack neighboring country Taiwan with nuclear weapons, China withheld permission to show Martin Scorsese's Oscar-winning film.
Pirates of the Caribbean: At World's End: Unofficial reports attribute the pulling of the third Jack Sparrow movie to China's decision that Chow Yun-fat's character, Sao Feng, upheld negative East Asian stereotypes.
Lara Croft Tomb Raider: The Cradle of Life: The film's depiction of Chinese society was considered negative and offensive by China's standards.
Farewell My Concubine: Most alarmingly of all, the 1993 Chinese film was banned nationally for its embrace and depiction of homosexuality, and for its critical take on communism.
Follow Michael Arbeiter on Twitter @MichaelArbeiter
More:
Will Smith Turned Down 'Django Unchained' Because He Didn't Want to Play Second Fiddle
Quentin Tarantino Says Next Movie Will Be More Like 'Jackie Brown'
Spike Lee Goes Internet Troll on 'Django Unchained'
---
From Our Partners:


40 Most Revealing See-Through Red Carpet Looks (Vh1)


33 Child Stars: Where Are They Now? (Celebuzz)