Dorothy's Dress from 'The Wizard of Oz' Sells for Half a Million Dollars
Somewhere over the rainbow bluebirds might fly, but there are also some Wizard of Oz fans who have a ton of money. Dorothy's famous white and blue gingham dress from the movie just sold for $480,000 at Julien's Auctions in Beverly Hills this past weekend. The dress has nearly doubled in value over the past seven years. It sold for $252,000 at auction back in 2005. Well, it's not that surprising because surviving scraps of fabric that have touched the skin of Judy Garland are few and far between and there are plenty of people who still covet such items.
However, as any fashion brand will tell you, the real money these days is in shoes and accessories. The Ruby Slippers that she wears sold for $510,000 at an auction in LA last year. They were part of a whole lot of old costumes and memorabilia that actress Debbie Reynolds has amassed over the years. Just imagine how much the Batsuit is going to go for one day. Yes, even the George Clooney one with the nipples!
Follow Brian Moylan on Twitter @BrianJMoylan
[Photo Credit: MGM]
More:
Why Every 'Wizard of Oz' Movie Is in Jeopardy
Judy Garland's "Wizard of Oz" Dress Attracts Huge Bid
OZ The Great and Powerful' First Look is Imaginative, Illustrated
From Our Partners: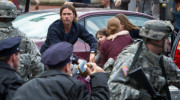 Brad Pitt Fights Zombies, Bad Hair(Moviefone)

Daniel Day-Lewis' Most Insane Movie Makeovers
(Moviefone)