'Dragon Tattoo' Sequel Could Drop Daniel Craig — To Recast or Rewrite?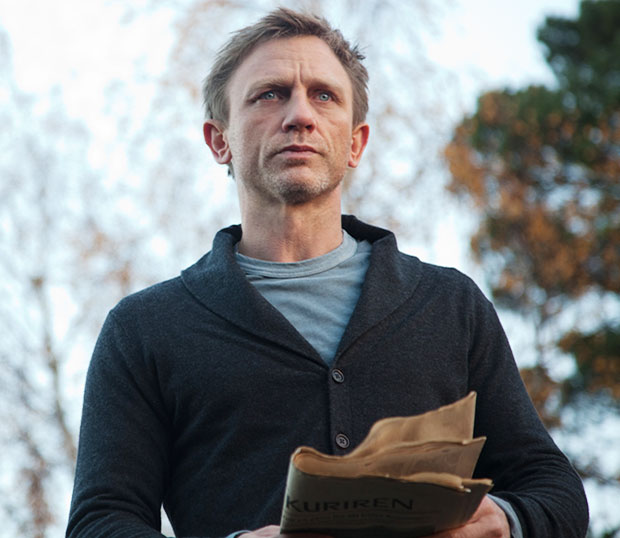 Daniel Craig has carved out for himself a comfortable niche as this generation's James Bond. Following a lackluster Quantum of Solace, the double agent regained our faith with a powerful, interesting, and enthusiastic Skyfall — powerful, interesting, and enthusiastic enough to gross $1.078 billion dollars worldwide (the eighth highest global intake in history). 
And with a blockbuster like Skyfall comes a hike in demand for its central player. In addition to the more Bond movies for which Craig was signed on in anticipation of his 2012 picture's success, Craig has also earned a spot among the A+ cast of director George Clooney's The Monuments Men. The actor's double-0 glory is carrying him far… though, perhaps not as far as he might have anticipated.
The Hollywood Reporter reports that Craig, as a result of his invigorated stardom, is asking for a pay raise from Sony Pictures Studios for the forthcoming film, The Girl Who Played with Fire (a sequel to 2011's The Girl with the Dragon Tattoo, in which Craig played the lead role). Reports add that in lieu of heeding Craig's request, Sony is considering a script rewrite that would remove his character, Mikael Blomkvist, from the developing movie.
Such would be looked at as a pretty extreme measure: not only is Blomkvist a substantial character in each volume of the film series' source material, Stieg Larsson's Millennium Trilogy novel series, but screenwriter Steven Zaillian (who wrote Dragon Tattoo) has already completed the script for Played with Fire. A removal of Craig would require Zaillian (or another writer) to take a good deal of overhaul to the production-ready screenplay.
No mention has been made of the possibility of recasting Craig's role, a risky endeavor to say the least, but replacing the English actor might better rectify the dilemma. Recent experiments with franchise cast replacements have resulted in a variety of fan reactions. TwiHards bemoaned the ousting of Twilight cast members like Rachelle Lefevre when she was replaced by Bryce Dallas Howard; Marvel junkies have taken quite nicely to Terrance Howard's replacement Don Cheadle as Iron Man sidekick Rhodey (who will really reach his true glory in the upcoming threequel). But replacing a lead character is always more daunting. The undertaking of such an act with Craig's role is likely to cause its share of vocalized animosity.
But is writing out Blomkvist completely really the preferable option? This would ordain the handing off of the entire story to ingenious, psychologically skewered computer hacker Lisbeth Salander (Rooney Mara),which is not as big a fail safe as one might think. While Mara is indubitably one of the most skilled performers shaping herself in Hollywood today, the pressure a rewrite of this nature would put on her character, and her performance, is doubtlessly straining. So often do fan favorites exceed their welcome in sequels or spin-offs that showcase them more prominently — what makes the extremity of Salander work as well as it does in Dragon Tattoo is her balance with foil Blomkvist. The shared screen time of stars Craig and Mara is what cooks up an enjoyable story in David Fincher's 2011 thriller.
According to THR, both Craig and Sony are interested in avoiding a rewrite/recasting situation. Meanwhile, director Fincher's attachment to the picture is still somewhat tenuous (he's presently wrapped up in projects like his Netflix series House of Cards and a recently announced adaptation of the novel Gone Girl. So what will come of The Girl Who Played with Fire, or her bespectacled hero? We've got quite the mystery on our hands.
[Photo Credit: Columbia Pictures/Sony Pictures]
More:
David Fincher to Adapt 'Gone Girl', Because This Guy Loves Dark Bestsellers About Killing
Why Uma Thurman Almost Turned Down Her Iconic Role in 'Pulp Fiction'
Warren Ellis on 'Gun Machine': to Write About America, 'You Have to Know About Guns'

Miley Cyrus Teaches Us Yoga on the Beach — INFOGRAPHIC