Jim Carrey Reminds Us Just How Much 'Dumb and Dumber' Changed Our Lives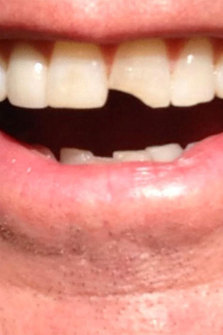 Jim Carry/WhoSay
Over the course of the past year and change alone, the status of the rumored Dumb and Dumber sequel has endured more back and forth than a game of Double Stamp. But if ever there was a confirmation to count on, it's Jim Carrey's latest WhoSay image post: a close-up on his inimitable chipped tooth, which he wore with pride as Farrelly Brothers hero Lloyd Christmas back in 1994. (Fun fact: that is Carrey's actual tooth — he usually inserts a cap but removed it to add to the flare of his Dumb and Dumber character. The same goes for Ed Helms and his incisor-lacking Hangover hero.) 
For those who grew up with Carrey's modern classic, Dumb and Dumber stands as a powerhouse of comic quotability, with one-off witticisms appropriate for every* scenario. We can only hope that the Dumb and Dumber To script offers the same caliber of conversational aides, but we're just fine utilizing Carrey and Jeff Daniels' '94 gems in the meantime. In case you're of the rare, sinful breed of folk who have never seen Dumb and Dumber, here's a quick look at the bounty of quotes that have found their way into the public lexicon:
"Not bad. Fell off the jetway again."
To be said in response to an inquiry of how your day is going.
"Just when I think you couldn't possibly be any dumber, you go and do something like this… and totally redeem yourself!"
To be said whenever a friend of yours surprises you with a fantastic idea. Or, equally appropriate: a terrible idea.
"That sounds good. I'll have that."
To be said in response to a waitperson's description of a restaurant's daily special.
"I'm talkin' about a place where the beer flows like wine."
To be said in describing any majestic, far-off location to which you'd wish to travel.
"We landed on the moon!"
To be exclaimed whenever you find yourself reading a newspaper.
"You'll have to excuse my friend. He's a little slow."

To be said following a particularly embarrassing or idiotic display by one of your close companions.
"Big Gulps, huh? All right. Welp, see ya later!"
Anytime, anywhere.
True poetry.
More:
Jim Carrey's Funniest Movie Moments
'Dumber and Dumber To' to Shoot this Fall
Jim Carrey Withdraws Support from Violent 'Kick-Ass 2'
Follow @Michael Arbeiter
| Follow @Hollywood_com
---
From Our Partners:


40 Most Revealing See-Through Red Carpet Looks (Vh1)


15 Stars Share Secrets of their Sex Lives (Celebuzz)