'E.T.' Writer Will Bring Roald Dahl's Masterpiece 'The BFG' to the Screen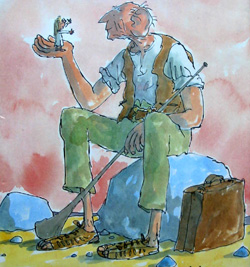 Every morning is just a typhoon of dejection. You wake up, swallow down the miserable image of yourself that you have come, not out of satisfaction, but out of a death of spirit, to accept as your destiny, and step into the whirlwhind of self-involved depravity that is the modern world, all to make just enough money to be able to continue down the same path for years to come. And when you get a rare spark of energy, fueled perhaps by a glimpse of old photos of a happier time—a less aware time—you breathe out the simple question: "Why?"
Here's why: Melissa Mathison, writer of E.T., is working on a script for a film adaptation of Roald Dahl's novel The BFG (Big Friendly Giant). And there it is. Life is worth living.
Roald Dahl is a titan of literature: Charlie and the Chocolate Factory, Matilda, James and the Giant Peach, The Witches, George's Marvelous Medicine… but topping them all is the tale of the Big Friendly Giant, who befriends a young girl named Sophie and distributes good dreams to sleeping children. Writing this book is the best thing anyone has ever done with his or her life. Roald Dahl, you're better than Gandhi. There. You were all thinking it.
And Melissa Mathison! The woman who wrote E.T., which is indubitably one of the most cherished family movies in history! Who better? I'll tell you who: no one. If you think Mathison is a one hit wonder, think of the little miracle that was The Indian in the Cupboard. That was also her doing.
So set aside your contemplative depression for now. We've got ourselves the embodiment of all things wonderful in the making. Spread the word—this could be it. This is what turns the world around. This will save us from ourselves.
Source: The Wrap via Cinemablend