Ed Westwick Talks About the Joys of Playing a Villain in 'Romeo and Juliet'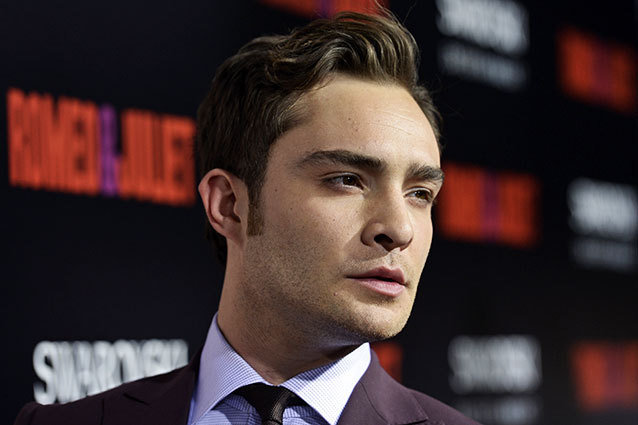 Relativity
No newbie to playing villainous roles (we're looking at you, Chuck Bass), Ed Westwick took on the role of the fierce Tybalt, Romeo's enemy, in Carlo Carlei's Romeo and Juliet. We spoke with Westwick about what it was like to work with Damian Lewis, his on-screen death, and what it would be like if Romeo and Juliet were about two young lovers in World War II.
You played an extremely intense and violent character, how was it preparing for that role?
It was fantastic. It was immensely enjoyable. I did a fair bit of research, and I wanted to develop a character who was unique and different to what we'd seen previously played as Tybalt. It was a great ride.
What made you want to audition for the role?
Well actually I was aware of the script about three years ago, and I basically just said to my representation that I have to do this role. I want it. I campaigned for it, and luckily or fortunately enough, I was given the privilege of playing the role and being a part in the production.
What was it like to die on screen?
(Laughs). I really, really enjoyed the scene. We had some great choreography … It was a really, really wonderful thing to do. I mean, it was quite exhausting after about 10 takes … It's funny, it's not every day you have to wield a sword and be able to have that weight in your arm. I can tell you, my shoulder was pretty tired at the end of the day.
How was your experience learning the dances?
The thing is, the dances were obviously traditional to that period, so it was something we're not really used to. You don't really do that kind of dance when you go to the dance club or whatever. But it was interesting, it was fun. Again, it was something new and refreshing to learn and there were a couple of people along the way who looked like absolute idiots … Hopefully we didn't look to bad during the real thing.
How were the costumes and your long hair?
With wigs, it's always one of those things, you're like, "Hh my god, is it going to look good, is going to look weird?" I think people did a wonderful job. I've never had hair that long so it was a very different thing for me to see myself in the mirror like that. With the costumes themselves, I thought they were absolutely brilliant.
What was it like working with such a talented, young cast?
It was actually inspirational. I'm a huge fan of everybody involved. To be surrounded in such wonderful company… it made you want to come out and be on point and deliver the best work you could. I felt very strongly about what we could do. It was just a wonderful opportunity to work with amazing people.
Was there anybody before the start of production that you were really excited to work with?
Damian Lewis because I'm a huge fan of Homeland, and he's a remarkable actor. Paul Giammati, of course, is incredible. Hailee's [Steinfeld] a wonderful young lady who's remarkably talented, and I'm a huge fan of her work … Douglass [Booth], who  I didn't know too much about — I was excited to work with somebody who was obviously there for a reason, somebody who was very talented and had a really strong performance as Romeo. I was excited to work with each person for different reasons.
Now that you've done Romeo and Juliet, is there any other Shakespeare play that you'd like to do down the line?
Oh, absolutely, I'm a huge fan. I mean, Hamlet is fantastic. I think to play Hamlet would be an amazing, amazing experience as an actor. I think it would be a very different journey than anything I've done before. I just saw a wonderful version of Macbeth that Kenneth Branagh did, and I mean that was breathtaking and inspirational as well … These plays are the best ever written, so if the day comes where I get the chance to do that, that would be amazing.
How do you think this version is different from other adaptations?
Well I think with Julian Fellowes' adaptation, a lot of the original verse is there, but some of it is tweaked, and I think the benefit of that is that it makes it more accessible to the contemporary generation. Especially people who are not aware too much with Shakespeare's work, who maybe don't understand the language. I'm well included … And then obviously there are some added scenes. At the start of the movie, it kicks off with a jousting match, which is obviously not in the original. There were some things there, and I think that is the essence of how it is different. I'm sure there are people who are not going to like that … In my mind, I felt like we put something together that was different and unique and hopefully enjoyable to people.
Why do you think now was a good time to adapt Romeo and Juliet again?
I feel like every generation deserves to hear this story. I think it's a story that stands the test of time, and everybody is always intrigued by the story … I think the last one was the ­­­­Luhrmann version with Leo … So why not now bring back a traditional form of it?
If you could set Romeo and Juliet in any period of time or any location, what do you think it would look like in your dream scenario?
Wow, that is an interesting question. Wow. I don't know, I don't know.
I know, it's a little tricky.
It is a little tricky because if you think of generations and decades and what might be going on during those times, maybe for example, it would be interesting in World War II. Instead of two rival families, maybe you have a German soldier falling in love with a Jewish lady somewhere in Germany. Something like that where it's not supposed to happen, but they love each other. Maybe that would be an interesting thing. I don't know, that's a very, very interesting question.