Elizabeth Debicki as Jordan Baker: A 'Great Gatsby' Breakout Star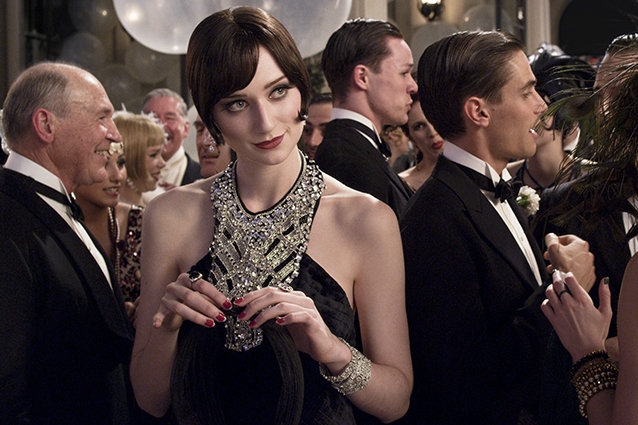 Leonardo DiCaprio, Tobey Maguire, Carey Mulligan — for his adaptation of F. Scott Fitzgerald's revered novel The Great Gatsby, director Baz Luhrmann recruited Hollywood's top talent. The star-lit casting fits the material, and Luhrmann's specific interpretation. His Gatsby is drunk on gimlets and glamour, embracing Fitzgerald's description of a "kaleidoscopic circus" and peppering it with the current faces of A-listers.
Mostly.
Elizabeth Debicki is an unknown here in the States and a rising star in her home country of Australia. When it came to casting Gatsby's elegant, wry, professional golfer Jordan Baker, Luhrmann deviated from the recognizable talent pool to to give Debicki a breakout role. Straight out of the Victorian College of Arts, Debicki was handpicked by Luhrmann, won over by her chemistry with Tobey Maguire. Luhrmann revealed his choice for Jordan Baker on his website in early 2011:
"It was a surprising result, but Elizabeth's grasp of the material and her chemical connectivity to Tobey Maguire, in addition to her striking, athletic appearance, had us in a place where we were fully confident and ready to take the leap of giving the role of Jordan Baker to what, I guess, people would term 'a discovery.' We are thrilled. As each role in Gatsby is cast, we seek, in the most dramatic way, to clarify each of Fitzgerald's characters, one against the other."
In an interview with The Australian, Debicki describes the whirlwind experience of being invited to the lavish party that is a Baz Luhrmann production. What started as a casual submission of a casting tape became the call of a lifetime. "That whole audition was one of the strangest experiences of my life," she explains. "I'd never been to L.A. before, it was like a crazy whirlwind — I got on a plane and then I was in LA, the sun was shining and I did this crazy audition and came home. Within five days it had all occurred, and I lost a day somewhere in between. Then Baz called me on a tea break in rehearsals and it was a very, very weird moment. You imagine you would react a certain way, like, 'That's wonderful' and you'd be very graceful, like in a Hollywood movie, but it wasn't like that at all. I don't remember saying anything remotely intelligent. I said something like, 'Are you serious?' but I said it quite a lot. He kept saying 'Yes' and then I thought I probably shouldn't ask him again in case he thinks twice."
Debicki comes from a family of dancers, having moved from Paris to Australia when she was five years old. Her diet as a kid was purely golden-era Hollywood films, the type of big screen song numbers that inform Luhrmann's Gatsby. The upbringing helped when it came to the role — although she tells Vanity Fair that doing the Charleston ain't easy. "The first time I did it I was absolutely wiped. Maybe in the 20s they were skinnier and had less body to throw around? I wouldn't be surprised if there's a whole new trend of Charleston classes at the gym, instead of, like, pole dancing," she says.
Having just begun her career, Debicki is one of the few young stars without a turbulent past or dirt to be dug up. It's a bright future, one we see a glimpse of when she spars alongside Maguire and DiCaprio in The Great Gatsby. But as she tells Interview Magazine, "stardom" isn't really one of her goals when making the jump to Hollywood. "It doesn't really appeal to me very much. When I went to school, it was all very idealistic. It was all just about making art and making theater. When I did my first film, I was like, 'Oh my god. Is this actually a job? 'Cause this is what I would like to do for pleasure.'"
Debicki simply wants great parts. Now that we've been introduced to her in Gatsby, we want the same thing for her.
MORE:
4 Differences Between the 'Gatsby' Book and Movie
Partying in Long Island, 'Gatsby' Style
What Is the Best Leonardo DiCaprio Movie? 
---
From Our Partners:


What Happened to 33 Child Stars (Celebuzz)


40 Most Revealing See-Through Red Carpet Looks (Vh1)