'Beautiful Creatures' Bad Girl Emmy Rossum on the High of Playing a Seductress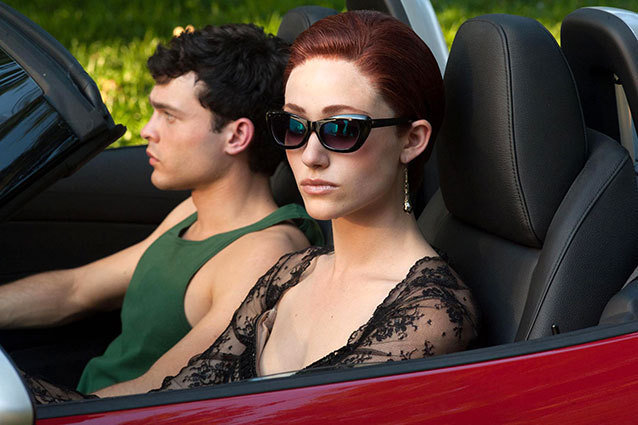 On TV's Shameless, Emmy Rossum plays a no-frills Chicago twentysomething who scrambles from one crappy job to another to provide for her five younger siblings. In Beautiful Creatures, in theaters now, the actress plays a glamorous evil witch, or caster, who tries to get her younger cousin to join the dark side.
Guess what? As you'd imagine, getting to play the bad girl is "really fun," Rossum tells Hollywood.com. "Too much fun, actually. I think I embraced it too much. She's this kind of larger than life, bravado-filled glamour puss who is totally self involved and has all of the power in the world, so she is deliciously fun to play."
RELATED: 'Beautiful Creatures' Stars on Their Fiery Kiss
Ridley is a Siren, which means she uses her sexuality to get mortals to do her bidding. Playing such an overtly sexual character is fascinating, Rossum says. "I just think it's fun that she never seems to actually give it up. She has all these guys doing her evil bidding for her and she's just standing there looking really good."
Ridley's mentor is the evilest of evil witches, Sarafine, played by Emma Thompson. It's fun for any actor to perform alongside such a well-respected figure, but Rossum says the climactic scene, in which the two women are dressed up in Civil War-era gowns, was especially exciting.
"We had a lot of fun," she says. "Our dresses were massive and heavy and sweaty in New Orleans but we were playing pretend and playing with magic. It was thrilling."
Beautiful Creatures is in theaters now. Check out the full interview with Rossum below:
Follow Jean on Twitter @hijean
[PHOTO CREDIT: Warner Bros. Pictures]
---
From Our Partners:

Pregnant Kate Middleton Bikini Pics Spark Palace Anger (Celebuzz)

50 Steamiest Movie Kisses of All Time (Moviefone)