'Entourage' Movie Officially Happening — Hug It Out, B**ches!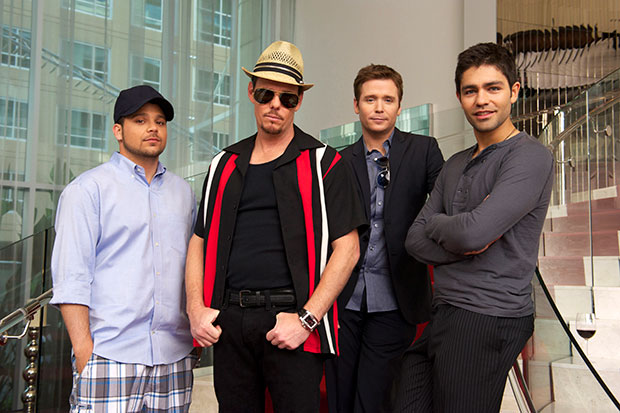 We know, we know. So many times have we been led to believe that Vince would be able to take on a big screen endeavor, only to have the rug pulled out from under him (and us) when a bit of wacky high jinx, romantic drama, business troubles, or some other form of calamity would rob Mr. Chase of his moviegoing aspirations. But considering the fact that the world outside of the HBO series is considerably less… absurd… we might be willing to bank on the fact that the official announcement of an Entourage movie is a sure thing. Deadline reports that Warner Bros. has finally given the green light to a big screen sequel of the beloved (sometimes in spite of itself, but still) 8-season dramedy. Hollywood.com has reached out to the studio. who was unable to immediately confirm the news.
Reports state that Doug Ellin, series creator, producer, and writer, will be directing the film, and that negotiations are beginning with stars Adrian Grenier, Matt Dillon, Kevin Connolly, Jerry Ferara, and Jeremy Piven. In addition to the main cast, in keeping with the show's tradition, a whole slew of self-parodying celebrities is bound to assemble for the film — there has always been chatter about a Barack Obama cameo, but he might still be busy.
For those of you still unwilling to accept this news as cold hard truth before you see some factual evidence, revel in the uncertainty of Vincent Chase's movie career with the below video:
[Photo Credit: HBO]
More:
'Entourage' Movie Picks Up 6 Months After Finale — Where Is That, Exactly?
Bradley Cooper for Lance Armstrong? The Awkward History of Actors Campaigning for Roles
'Argo' Wins Big at SAG — Are We Looking at a Best Picture Winner?

J. J. Abrams and 'Star Wars': Has the Lightsaber Been Passed to the Right Director?