Epic Movie Karaoke Disasters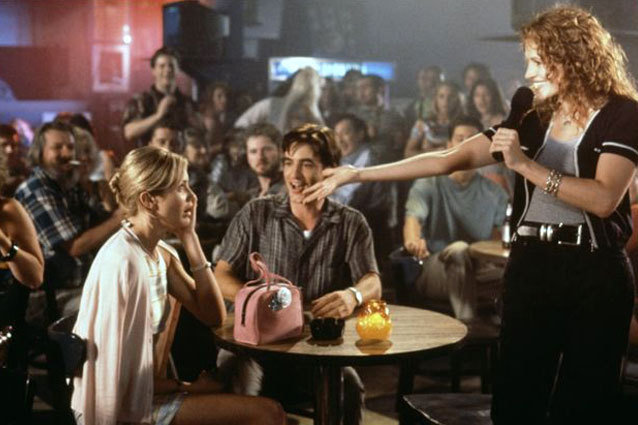 TriStar Pictures
Karaoke is an exercise in narcisissm, so it's no wonder the dive bar art form figures prominently in so many Hollywood movies. Sometimes the device will reveal a hidden talent or impress a love interest. But not always. Here are five scenes that show just a few of the ways a karaoke performance can go horribly, horribly wrong.
I Still Know What You Did Last Summer
First of all, why is actual R&B star Brandy handing over the mic to warbly Jennifer Love Hewitt? Secondly, the only people who are allowed to sing "I Will Survive" at karaoke are people who have been on stage at one of those VH1 Divas concerts. And finally, always make sure that the bar's karaoke machine isn't being run by a crazed psycho killer who's been stalking you and the new friends you got to replace the ones who died in the first movie.
This off-key performance is a triumph for dear candy-covered, chocolate-coated Kimmie (Cameron Diaz). It's a failure for Jules (Julia Roberts), who sets her rival up for humiliation and then watches her win over a roomful of strangers (and their shared love) with her good-natured if inept cover of "I Just Don't Know What to Do With Myself."
Karaoke brings the crazy to the surface. If you ever see something like this go down in a karaoke bar, just get the hell out of there.
We'll love these girls forever, but this scene — this movie — was just one big facepalm.
The big loser here is common sense, because we're pretty sure that no matter how cute Piper Perabo's crop top is, an impromptu Blondie cover has never put a stop to a full-scale bar fight. 
More:
Random Stars You Didn't Know Were on 'Dawson's Creek'
Outrageous Oscar Snubs
Movie Presidents We'd Love to Grab a Beer With
---
From Our Partners:


40 Most Revealing See-Through Red Carpet Looks (Vh1)


15 Stars Share Secrets of their Sex Lives (Celebuzz)