'Evil Dead': Horror Remakes Continue to Slay the Box Office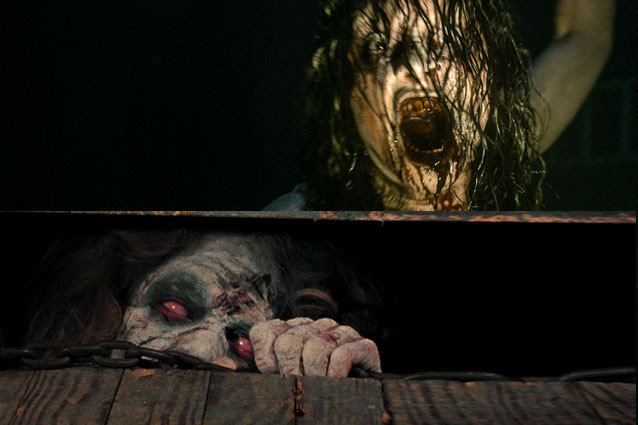 Sam Raimi's 1983 horror indie The Evil Dead trickled into theaters on January 1, managing to squeeze $2.4 million out of the box office over its short theatrical run. A decent take for a movie that cost just above $300,000 to produce.
While it spawned two sequels and and countless DVD reissues, The Evil Dead franchise has continued to remain in the "cult" category. Seminal, but "The Necronomicon" is no "Jason" or "Freddy." So it's a testament to the power of a horror remake what Screen Gems has accomplished with their updated Evil Dead. Over the weekend, the 21st century incarnation grossed over $26 million at the domestic box office — a 983% increase from the overall total of the original.
"Just enough" is the name of the game for horror remakes, the rare genre of Hollywood movies that can be delivered on modest budgets and be deemed hits when they amount to modest returns. What it takes is a ludicrous concept and the imagination to pull it off. Creating something fresh that fits the bill is a risk for Hollywood — let's be honest, would you pony up $20 million for a pitch like "murdered child molester seeks revenge by preying on the dreams of children"? But that's the kind of crazed concept a horror movie needs, especially when it comes to whipping up chilling trailers and posters that pop. So studios return to when filmmakers were capable of cooking up wilder ideas, back in the mid-'70s and '80s, and reap the properties for remake potential.
The Evil Dead poster pays its respects to the original by featuring the line, "A New Vision from the Producers of the Original Classic," but it also showcases the blood-drenched image of a woman on death's door, accompanied by the claim that it's "the most terrifying movie you will ever see." Callbacks combined with sensationalist claims that only a "name brand" movie could make.
Horror remakes have an advantage in modern technology. For fans, updating the story isn't the draw. It's all about the promise of amplified gory antics, the mayhem we saw decades earlier realized and escalated with today's style. The upgrade worked wonders for 2010's A Nightmare on Elm Street, 2009's Friday the 13th, and 2007's Halloween, three glossy remakes that grossed $63 million, $65 million, and $58 million respectively. Strong imagery is the key to keeping a franchise like Texas Chansaw Massacre able to continuously reboot itself, as it did in both 2003 ($80 million total) and 2013 ($34 million).
With even slightest bit of name recognition and a high-concept to back it up, lesser-known properties have been able to prosper: Dawn of the Dead (2004, $80.1 million), Amityville Horror (2005, $64.5 million), The Hills Have Eyes (2006, $41.8 million), and even Prom Night (2008, $43.8 million) turned profits. Even George Romero's thriller The Crazies, which only made $143,784 at the box office back in 1973, was able to be twisted for today's audiences. Director Breck Eisner's 2010 remake made $39.1 million.
Critical response withstanding, horror movie remakes from the past 10 years are lucrative investments. What's less sure is their franchise potential — both the A Nightmare on Elm Street and Friday the 13th reboots hit big and sparked sequel talk. So far, neither has come to pass. Halloween and Texas Chainsaw made it to second rounds, but the returns didn't allow for series growth. Evil Dead's future is in question: there is already sequel talk, but will it make sense three weeks from now? And will the team that helped bring the movie into theaters want another round? Unlike most of the movies they're based on, today's horror movies rarely evolve into their own franchises. The real successes end up being the originals — Saw and Paranormal Activity being two everlasting series that got their start on the film festival circuit.
Horror movies work, but like their victims, don't stick around for long.
Follow Matt Patches on Twitter @misterpatches
[Photo Credit: Screen Gems]
More:
'Evil Dead' Kills the Box Office with Strong Start
'Evil Dead:' After the Credits Roll
Horror Movies That F**ked Us Up for Life
---
From Our Partners:


Eva Longoria Bikinis on Spring Break (Celebuzz)


33 Child Stars: Where Are They Now? (Celebuzz)