'Evil Dead': After the Credits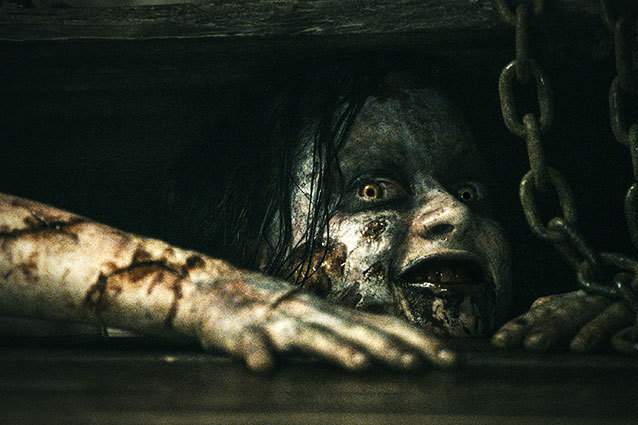 Just about every high concept feature film these days subscribes to the practice of the post-credits scene. While it was a rarity in the days of yore to see any activity hit the big screen following the final production notes and Special Thank Yous , with exceptions taking form in the likes of Ferris Bueller and a few other odd entries, nowadays, we know not to leave our seats until well after a film's narrative has come to a close. Evil Dead, unsurprisingly, takes a stab at the growing tradition.
Spoiler Warning: Details about the end of Evil Dead and the film's post-credit scene are revealed.
Fede Alvarez's gore-infused remake of the early '80s cult classic The Evil Dead, which starred one Bruce Campbell, seems like it might provide the perfect bit of fodder for a new franchise. After all, Sam Raimi's Evil Dead spawned Evil Dead II and Army of Darkness, and in this new era of rampant sequel-dom, a horror flick of this nature would feel like an oddity without follow-ups. But at the end of the new movie, Jane Levy finds herself the sole survivor of the haunted woods' bloody curse, with a new sense of self worth… albeit one fewer arm. The film ends pretty conclusively, without hint of, or even room for, a sequel. Levy embraces her determined safety, mourns the loss of her brother and friends, and trudges away into the mist of victory. Roll credits.
But wait, there's more!
RELATED: Can 'Evil Dead' Exist in a Post-'Cabin in the Woods' World?
We've seen this film's slate of actors, lighting designers, and stunt coordinators scroll across the screen. The music picks back up, and an image begins to form. Could it be that the story is not over? Are we gearing up for a sequel after all? With the materialization of one of the monsters, not quite as destroyed as we might have thought, reveal that a second Evil Dead II is on the way?
Nope. See, just as the credits are scored with snippets of music and dialogue from the original film, the post-credits scene acts entirely as an homage to the old franchise: it's Bruce Campbell, appearing before a black background, cackling maniacally (as he is wont to do), before emitting a dark, smoky, "Groovy." Ah, nostalgia.
Catch Evil Dead in theaters now, and watch the original on Netflix.
Follow Michael Arbeiter on Twitter @MichaelArbeiter
[Photo Credit: TriStar Pictures]
---
From Our Partners:


40 Most Revealing See-Through Red Carpet Looks (Vh1)


33 Child Stars: Where Are They Now? (Celebuzz)