The New Trailer For 'Interstellar' Proves Why It's the Most Anticipated Film of the Year
For all that the Internet has talked about Guardians of the Galaxy and Boyhood and each of the movies that has, at some point in the past few months, been dubbed the "most anticipated film of the year," there really only is one film that earns the title in earnest: Christopher Nolan's Interstellar. It's his first film since wrapping up the Batman trilogy, Matthew McConaughey's first film since winning an Oscar, and it has a plot that's more tightly guarded than whatever's happening on the set of Star Wars: Episode VII. There's no way that any other film released in 2014 can hold a candle to Interstellar.
Look, it doesn't really matter what we write here, because we both know that you're too busy watching the trailer to find out what Nolan pictures when he imagines outer space to actually care what the article says. We could try and give you're a brief overview of the plot (Earth has run out of resources and the only solution to solving the crisis is to send McConaughey up into space); we could try and posit some theories about who Jessica Chastain is playing (although, let's be real, there's only one logical option); we could talk a bit about the first glimpse we've gotten at McConaughey's fellow astronauts (all very good looking, all very philosophical); we could even break down the poetry that Michael Caine recites in voice over to look for clues (it's Dylan Thomas, for what it's worth), but it doesn't really matter.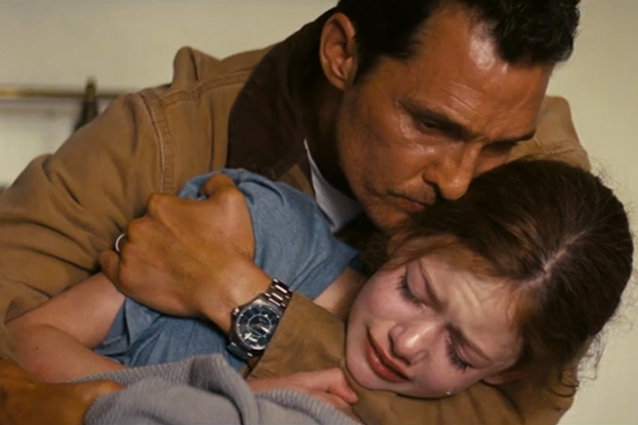 Paramount Pictures
That's the thing about being the hands-down most anticipated film of the year: it doesn't matter what anyone has to say about it, as long as it's exciting. And while the first teaser trailer was a bit underwhelming sepia-toned for all the hype that Interstellar has received, this one delivers on all fronts. It's explosive, beautifully-shot, packed with emotion and effects and just enough plot details to keep things intriguing without giving everything away. It's epic. It's enticing. It made us feel things.
But most importantly, it just makes you want to see the movie even more. So, sorry Richard Linklater and Chris Pratt – this year has really just been a countdown to Interstellar. Only four more months to go until November 4.