Review: 'Fast & Furious 6′ Packs the Series' Biggest Action and Most Boring Plot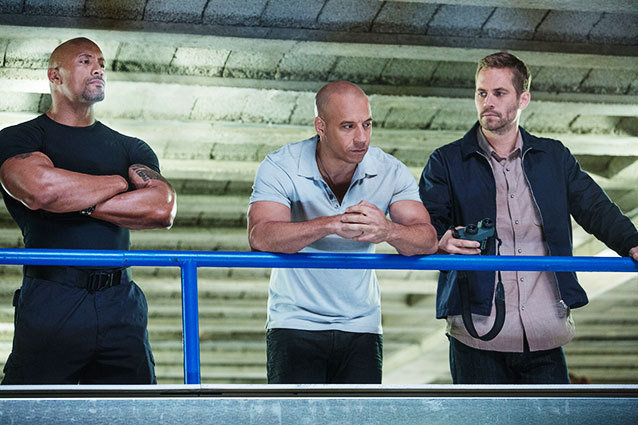 By now, you know if you're in or out for the Fast & Furious franchise. Director Justin Lin took the wheel for the third installment, Tokyo Drift, and kicked it into high gear with an independent trilogy of films with episode four, Fast & Furious. Now he's back for the sixth entry — finally, Vin Diesel, Paul Walker, and the rest of the gang are ready to go toe to toe with summer's most ludicirous blockbusters. Fast & Furious 6 is a fantasy film, existing in a world where cars defy the laws of physics and logic is put on the back burner. It's more of the same, cranked up 100 times louder. Fans are going to love it.
After stealing millions and falling off the grid in Fast Five, Diesel's Dominic Torreto is recruited by lawman Luke Hobbs (Dwayne Johnson) to hunt down international criminal/custom car enthusiast Owen Shaw (Luke Evans). Employing a team of expert drivers, Shaw is knocking off heists across Europe in hopes of assembling the ultimate weapon to sell off to the highest bidder. And there's a catch: Dominic's thought-to-be-dead lady friend Letty (Michelle Rodriguez) is part of Shaw's squad. The photographic evidence lights a fire under Dominic, and he gets Brian (Walker) and the rest of the gang back together to put an end to the evil doing.
What Lin does with the Avengers-esque setup of the Fast bros as a supersquad is simply astounding. Dominic and Co. travel to London to intercept Shaw and attack his plan like a swarm of fighter pilots in a WWII dogfight. The movie's not about racing anymore — even though there has to be (and is) a racing scene — and Lin pines for a bigger scale with more innovative action by abandoning the backgrounds of his characters and bestowing them with the power to fight crime. Could a roadster actually face off with a tank? Could a team of street drivers suddenly learn how to fight like they're Bruce Lee? Could Vin Diesel zoom off the edge of an elevated highway, fly in the air, land on a moving car, and survive? Fast & Furious 6 doesn't ask "could," it just says "does."
The main issue with the film, that even diehard fans might agree with, is that the drama around the few major set pieces is an absolute bore. Clocking in at nearly two and a half hours, Fast & Furious 6 feels like four seasons of a CBS procedural, with a bigger stunt budget. The twists and turns are episodic, continually returning to Torreto's homebase to formulate the next plan of attack and try and squeeze comedy out of the ensemble. (Funniest person in the movie? Ludacris as Tej — believe it). By the time Brian traces back through his past to an old nemesis — apparently the Fast franchise has a dense mythology worthy of callbacks — the talky moments feel like breaks for power napping. To keep the momentum, Lin shoots dialogue scenes as if they were chases, swirling camera movements and equally dizzying overacting. Just get to the cars already!
To combat superheroes and sci-fi epics, Fast & Furious 6 is even bigger and crazier than before. But it's overload — even with adeptly conceived and executed stunts, the sixth (but not final) entry of Fast is a Porsche souped up with monster truck wheels. Yeah, it looks wild, but it doesn't work.
2/5
What do you think? Tell Matt Patches directly on Twitter @misterpatches and read more of his reviews on Rotten Tomatoes!
More:
7 'Fast' Trailer Moments That Take Series to New Heights
The 'Fast & Furious 6' Class Photo
'Fast 7' Has a Release Date
---
From Our Partners:


What Happened to 33 Child Stars (Celebuzz)


40 Most Revealing See-Through Red Carpet Looks (Vh1)