8 Female Directors to Start Watching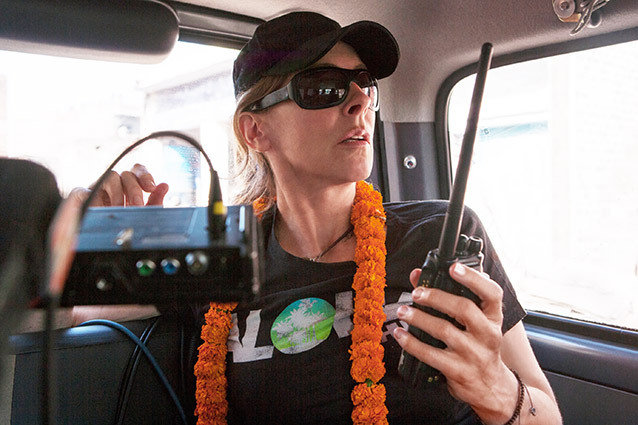 Columbia Pictures via Everett Collection
The sad truth is that most Hollywood films are made by men, for men, and about men. Moreover, critics argue, the films that do portray women tend to reduce them to offensive stereotypes. The way to break this pattern is to pay more attention to the female directors who are hard at work delivering quality material. Despite the odds, a handful of women have created films that are both cinematically and culturally relevant. What they don't receive, however, is the same praise as their male counterparts. In an attempt to correct this and give these filmmakers their proper due, we've provided a list of eight of the most influential female directors in film history.
Deren was an experimental filmmaker known for her association with the avant-garde movement of the 1950s and 1960s. Her films challenge cinematic conventions, defy narrative cohesion, and aim to provide an uncanny, sensory experience for the viewer. Her most significant works are Meshes of the Afternoon (1943) and At Land (1944), but Ritual in Transfigured Time (1946) is beautiful and captivating. In addition to being a filmmaker, Deren was an important film theorist and choreographer. You can watch the majority of her films on YouTube for free. 
Dash's Daughters of the Dust (1992) is the first full-length film by a black woman to be released theatrically in the United States. Dash was part of the L.A. Rebellion film movement that formed out of UCLA film school in the 1960s and continued into the 1980s. The goal of the movement was to develop a Black Cinema that provided an alternative to the classical Hollywood film narrative. Unlike most Hollywood films, Daughters of the Dust is bold, unique, and extremely personal. You can stream Daughters of the Dust on Amazon or rent the DVD through Netflix. 
Kopple isn't an easy filmmaker to pin down, but she's known to most cinephiles for her harrowing documentaries. She won an Academy Award for both Harlan County, USA (1976) and American Dream (1990), two films that portray in powerful detail the hardships of the working class. Her recent documentaries include  Shut Up and Sing (2006), an in-depth look into the aftermath of the Dixie Chicks/George W. Bush controversy, and Running From Crazy (2013), a bleak portrait of mental illness through the family of Ernest Hemingway. You can stream American Dream and Shut Up and Sing on Amazon, and can purchase Harlan Country, USA on DVD through the Criterion Collection. 
Shelton emerged on the independent scene in the 2000s with Humpday (2009), a hilarious mumblecore film about masculinity. Her later films like Your Sister's Sister (2011) and Touchy Feely (2013) feature more popular actors, but they're equally as perceptive and intimate. Shelton has often said that with modern technology, anyone has the potential to make a film if they're willing to finance it themselves and gather their friends. Although filmmaking isn't that easy, Shelton's point is that aspiring female directors shouldn't be waiting by the phone for the next big break, and instead should just go out there and make whatever they want to make. You can stream Humpday on Amazon, Touchy Feely on Netflix, and rent Your Sister's Sister on DVD through Netflix. 

Potter is one of Britain's most idiosyncratic filmmakers working today. Orlando (1992), an adaptation of Virginia Woolf's novel, introduced the world to Tilda Swinton, and has now become a cult classic. Potter's Yes (2004) is a beautiful romance spoken in iambic pentameter, and her most recent film Ginger & Rosa (2013) is an evocative coming-of-age drama that contains Elle Fanning's best performance to date. Known for her distinct visuals, Potter is a true artist. You can stream Ginger & Rosa on Amazon and rent the rest of Potter's films on DVD through Netflix. 
The French New Wave of the 1960s was dominated by auteurs like Jean-Luc Godard and François Truffaut, but somehow Varda carved a place for herself within the movement and reinvented cinema. Varda hasn't received the same attention as Godard and others, but Cleo From 5 to 7 (1962) is just as daring and innovative as Breathless (1960) and The 400 Blows (1959), and her post New Wave films like Vagabond (1985), The Gleaners & I (2000), and The Beaches of Agnès (2008) are better than anything Godard has made in the last thirty years. You can find most of Varda's films on Fandor or in the Criterion Collection. 
Revisionist historians in film studies have identified Weber as the first American woman to direct films. Most of her work has been lost, but some films like Suspense (1913), Hypocrites (1915), and The Blot (1921) have survived and been restored. Weber is an important presence in the history of motion pictures, and reminds us that women have always impacted the industry and the art form. Most cinephiles credit D.W. Griffith with establishing cinematic codes and conventions, but Weber was alongside him every step of the way. 
Bigelow may not be the greatest female director of all time, but she's arguably the most important. On top of being the first woman to win a Best Director Academy Award, she deserves credit for establishing a presence in a genre that is traditionally dominated by men. Bigelow's action films are kinetic and tense works of art, but unlike her male competition, she's not afraid to challenge the audience and subvert the genre. Strange Days (1995), for example, is more than just a clever science-fiction film. It's a disturbing study of surveillance, voyeurism, and misogyny. Blue Steel (1989) and Zero Dark Thirty (2012) transcend the police procedural genre to portray female protagonists that thrive in male-centric environments. Finally, The Hurt Locker (2008), the film for which Bigelow won Best Director (it also snagged Best Picture), is a suspenseful war thriller that simultaneously challenges traditional conceptions of masculinity. You can stream the majority of Bigelow's films on Amazon or rent them on DVD through Netflix.