Few Actors Returning For 'GI Joe 2'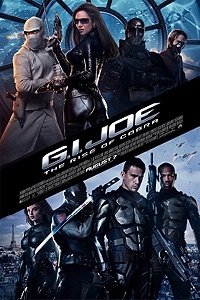 Well, at least a few of the actors who participated in Paramount's criminally bad GI Joe: The Rise of Cobra seem to have developed a sense of shame, since only a handful of actors will be returning for the Jon Chu-directed sequel. Either that or their characters didn't fit into Zombieland writers Rhett Reese and Paul Wernick's script. Or Paramount felt like scaling back from the original pic's reported $175 million budget. But I like to think it's the shame.
The news comes straight from GI Joe star Rachel Nichols, who Tweeted "GI JOE 2 News Flash: The only characters to return in the JON CHU directed sequel will be SNAKE EYES, STORM SHADOW, and DUKE…" Which means that Nichols herself won't be returning, despite her stating in a recent interview with the New York Post that she would "jump to do it in a second."
With only Lee Byung-Hun (Storm Shadow), Ray Park (Snake Eyes) and Joe star Channing Tatum (Duke) returning, we can probably also say goodbye to Dennis Quaid and Sienna Miller, not to mention Joseph Gordon-Levitt, whose madcap performance as "The Doctor" almost made the movie bearable.
Source: /Film