'12 Years a Slave,' 'Argo' and Other True Stories We Might Have Never Known If Not For Their Movies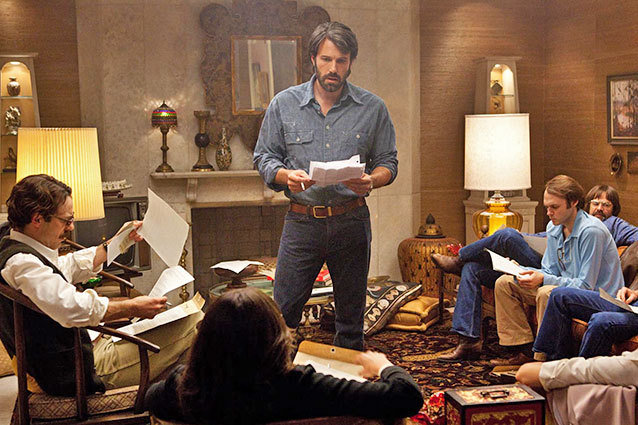 Sure, Hollywood is full of movies like Disaster Movie, Fred Claus, and whatever new rom-com Gerard Butler is in, but every now and then a movie comes out that tries to educate the audience about a social issue via a true story. While documentaries are usually the go-to medium to convey a little-engine-that-could story, sometimes a few big-name actors are needed to help spread the word. That's why many have realized that to tell a true story about social issues to the public — one that may not have gotten as much attention as it deserves — a major motion picture might be the way to go.
The most recent film to do so is Steve McQueen's 12 Years a Slave, a drama based on the 1863 autobiography of the same name that tells the story of a free black man (played by Chiwetel Ejiofor) who was kidnapped in 1841 and sold into a slavery. It is a story that, unfortunately, not many people knew of before the film was made. But thanks to those who thought the story was worth telling, the public now has the opportunity to reassess the issue of slavery and witness a story of true importance.
If a film based on a true story is done well (such as 12 Years a Slave), and if it stays closer to non-fiction than fiction, at the end of it we are more well-informed than we were when we entered the theater, and really, who wouldn't want to be smarter?
Here are some of our favorite movies that shed light on real-life stories of importance:
12 Years a Slave
The subject of America's history with slavery has long been at the core of numerous movies, yet this story seemed to slip through the cracks until now. McQueen's film tells a powerful human story of tragedy as it follows a free black man named Solomon Northup who is sold into slavery. The film reminds us of the horrors of America's past and lets us reflect upon the unbelievable cruelty of others. It also reminds us that not every story about slavery has been told yet.
Argo
While this adaptation of CIA operative Tony Mendez's book The Master of Disguise and Joshuah Bearman's Wired article "The Great Escape" took flack for transgressing from the facts of the rescue of six U.S. diplomats during the 1979 Iran hostage crisis, the movie did it's job: It brought to light an untold story of American and Iranian hostility.
Hotel Rwanda
Based on real life events in Rwanda during the spring of 1994, the film follows Paul Rusesabagina (Don Cheadle) as he attempts to rescue his family and thousands of refugees from the horrors of the Rwandan Genocide. It brings to life the issues of genocide, the results of violence, and the political corruption that ran rampant at the time.
The Killing Fields

This drama is based on the experiences of two journalists (Cambodian Dith Pran and American Sydney Schanberg) during the Khmer Rouge regime in Cambodia. The film successfully sheds light on a totalitarian regime and the mass murder of millions of Cambodians.

Fruitvale Station
In another recent real-life story portrayed through film, Fruitvale Station follows the 2009 shooting of an unarmed young black man named Oscar Grant in Oakland, California, and in the process tells a powerful story of police brutality.
Erin Brockovich
While Erin Brockovich is definitely a little lighter in tone than the other five films, it nevertheless tells a dramatization of the true story of woman (played by Julia Roberts) who went up against a big corporation, PG&E, that was knowingly harming citizens with contaminated groundwater. Plus, Roberts won an Oscar for it.