Baseball Movies to Get You Ready for the Post-Season
The pinnacle of baseball season is almost here and the long journey to the World Series will be over in less than two months. There's no better way to gear up for those magical game seven moments than re-watching some of the greatest (and tear-jerking) baseball movies.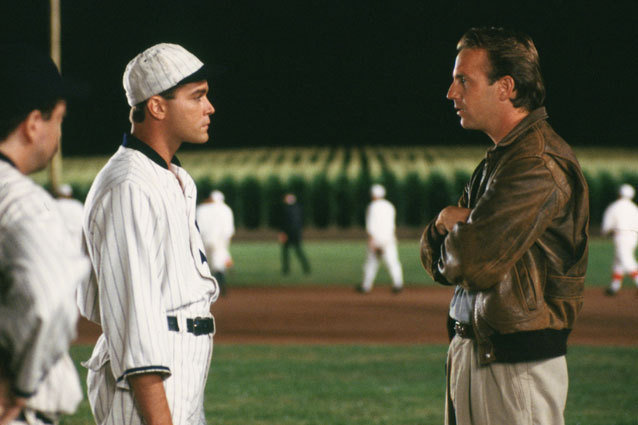 Universal Pictures

Field of Dreams
How many people seriously considered buying a cornfield after the release of Field of Dreams? The up-keep might have been tedious but the possibility of hearing "if you build it, he will come" was too good to resist. Of course, Ray Kinsella's (Kevin Costner) visions don't land him in the looney bin and not only does he make a heady profit, but he also helps some ghost's dreams come true along the way.
Angels In The Outfield
This Tony Danza comedy isn't just for nostalgic baseball fans, it's a staple of so many childhoods. Angels may have not carried Jeter head-first into the stands to make that amazing 2004 catch against Boston, or lifted Luis Gonzalez's World Series, game seven walk-off homer into the stands, but it's hard not to wonder. When Mel Clark (Tony Danza) holds up his glove after diving for the final out and clinching the series for the Angels, well, I'm not sure of any real-life sports moment that induces more goosebumps than this scene.

Fever Pitch
With the inevitable clinching of the AL East by the Boston Red Sox (Sorry, New York) it'd be wrong to leave  Fever Pitch off the list. Die-hard Sox fan Ben's (Jimmy Fallon) dire love for his hometown team may seem exaggerated, but those who have spent any amount of time in Beantown [Editor's note: we don't actually call it that!] can tell you that while his dedication is a bit stretched, it's not too far out.
A League of Their Own
Let's face it, the ball players in A League of Their Own may be a bit more emotional than most major leaguers but they're just as fierce. Littered with stars (Madonna, Tom Hanks, Rosie O'Donnell), the film is worth watching for the cast alone. Or for, possibly, the great sports movie line of all time: "Are you crying? There's no crying in baseball!" There is totally crying, though, like when some teen in Chicago steals any shot of your team making it to the post-season. (I'm lookin' at you, Steve Bartman!)
Nine Innings From Ground Zero
This HBO documentary isn't recommended for those prone to some serious feelings. Chronicling the Yankees post-season run in New York just weeks after the 9/11 attacks, this film shows people everywhere just how integral a part of life sports can be, and the small escape it can provide in the face of devastating tragedy. Through interviews with those who were directly affected by the attacks and with players from both the 2001 Yankees and Diamondbacks, the documentary truly proves that those "ordinary moments" we often take for granted can mean so much more.
More:
'Mockingjay' Casts 'American Horror Story' Star
Hollywood's Sexiest Ghosts
Leo DiCaprio Set to Play Woodrow Wilson
---
From Our Partners:


40 Most Revealing See-Through Red Carpet Looks (Vh1)


15 Stars Share Secrets of their Sex Lives (Celebuzz)