NYC Movie Myths You May Have Believed
Moving to New York seems like such a magical idea until you realize you don't live in a romantic comedy. Here are the top five movie myths that may have jump-started a desire to relocate to Manhattan but will most likely not be the world you live in.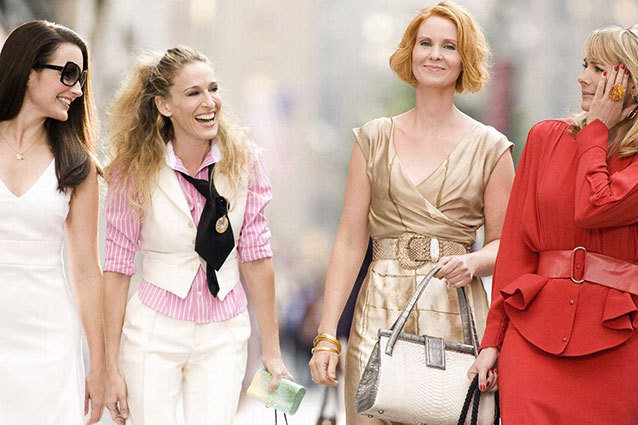 New Line
Sex and The City: The Movie
Moving to the big city means you'll definitely find the love of your life, or at least find the man you're gonna marry after going on tons of fun dates and having awesome random hook-ups like Carrie and her clan, right? Wrong. NYC Movie Myth #1: You won't have a fabulous wedding at the New York Public Library, you'll probably be alone for the rest of your life. That may be dramatic but c'mon, you probably will be a cat lady living in a way too expensive Upper East Side apartment. And it definitely won't be as trendy as Carrie's studio.
Nick and Nora's Infinite Playlist
How great would it be to have an all-night adventure through Manhattan with a guy as cute as Michael Cera? Listen, you can even try to have this happen (seriously, plan it out) but eventually it'll be 4 a.m. and the train running back to Brooklyn will be undergoing construction and suddenly you're stuck with an annoying hipster and all you want to do is go to sleep. NYC Movie Myth #2: Your nights will consist of laying in bed watching Arrested Development on Netflix rather than gallivanting through a magical city until morning.
Maid in Manhattan
This one may be a bit more realistic as you will probably have to clean hotel rooms to pay your exorbitant Williamsburg rent. However, if you think your minimum wage gig is going to eventually lead you to marry a guy as sexy as Ralph Fiennes, you better think twice. NYC Myth #3: Your crappy job won't lead you to fall in love with a gorgeous man and break up his engagement so you can be together.
How to Lose a Guy in 10 Days
This rom-com made you want to move to the city, work at a big magazine and fall in love with one of your story subjects, right? And then spend a weekend with his crazy family in Staten Island and eventually stay together forever? NYC Movie Myth #4: You won't find a high-paying job at a large publication and most guys won't bring you to meet their family because of the high number of non-committal jerks in Manhattan.
Elf
The holiday season is almost upon us and what is more magical than walking down 5th Ave, gazing at all the store-front windows? New York is great during November and December! That's totally true. But if you think that Santa is going to end up in Central Park with an awkwardly old elf that looks like Will Ferrell, you're sadly mistaken. NYC Myth #5: You won't be singing "Santa Claus is Coming to Town" with a crowd of random people on Christmas Eve to help ol' Saint Nick deliver toys to children around the world.