'For Greater Glory': Andy Garcia's Braveheart Moment — EXCLUSIVE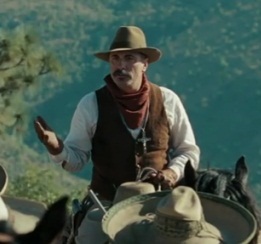 There are a handful of cinematic speeches that are moving enough to reach beyond the characters in their movies, and to actually touch and inspire audiences themselves. Andy Garcia, who plays Enrique Gorostieta (the soldier who was chosen to lead the Cristeros rebellion against the oppressive Mexican government) might be the next to deliver one of these speeches. Garcia stars in For Greater Glory, a chronicling of the fight for justice in 1920s Mexico, wherein he seems to truly capture the passion and power of Gorostieta.
In the below clip, Gorostieta (Garcia) delivers a rousing horseback speech to his men, just before engaging in battle for liberty. It's a speech so rousing that even as a viewer, you'll have a hard time not riding off into the sunset, ready to battle for your fellow man.
The Greater Glory also stars Eva Longoria and Oscar Isaac, and is Dean Wright's directorial debut.
Check out the clip below, and catch The Greater Glory in theaters on June 1.
More:
Eva Longoria, Andy Garcia In for 'The Truth'
'Desperate Housewives' Finale: What's Next for the Women of Wisteria Lane?
Eva Longoria, Diane Kruger & More: Best and Worst Dressed at Cannes 2012