For Your Consideration: The Blues Brothers on Netflix Instant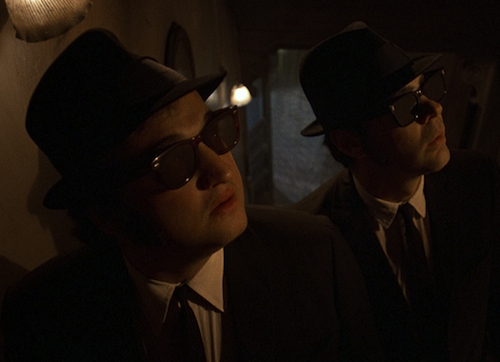 Hey, remember all those great films based on SNL sketches?
No, that's because by and large stretching a three-minute comedy routine into a ninety-minute feature means padding the runtime with six different kinds of crap strung loosely together on celluloid. Films like Coneheads, A Night at the Roxbury, Superstar, Stuart Saves His Family, It's Pat, and The Ladies Man are all sterling examples of this tendency toward failure. One could make a strong case for Wayne's World, but even that is not universally haled as a great film by any stretch the imagination.
The only real time that this adaptation process has been fruitful, the one time they actually managed to catch lightning in a bottle, was 1980's The Blues Brothers—and it's now on Netflix Instant.
Who Made It: The Blue Brothers was directed by none other than the great John Landis. If you aren't familiar with this director, rectify this oversight immediately. Landis is a jack-of-all trades director who has proven himself to be dexterous in nearly every genres. He gave us the seminal comedies National Lampoon's Animal House, Trading Places, and Three Amigos as well as horror classics An American Werewolf in London and The Twilight Zone Movie (he directed one of the segments). There is an appropriateness to featuring Mr. Landis this week as his An American Werewolf in London was screened as part of Fantastic Fest; which just wrapped yesterday.
Who's In It: Saturday Night Live icons, and comedy legends, Dan Aykroyd and John Belushi play the titular siblings. Between the two of them, these guys have amassed the most epic collection of hilarity imaginable. Their resumes boast more classics than we even have time to list. In 1980, the duo were in their comedic prime and the bizarrely stoic way they play off one another is the crux of what makes this film work.
What's It About: Elwood and 'Joliet' Jake Blues are the greatest blues music act in the world. Unfortunately, Jake's recent incarceration has derailed their dreams of making it big and left their backup band scattered all over the country. When Jake is finally released, Elwood is there to pick him up. The two end up visiting the Catholic school where they grew up and find out that it is in danger of being shut down. They realize that God has charged them with a mission to save the school. They drive around the country reassembling their band to hold a benefit concert.
Why You Should Watch It: The Blues Brothers is an experiment in quiet absurdity. I believe the reason that this film succeeds where so many other SNL sketch adaptations have has failed is that The Blues Brothers sketch was so barebones. It wasn't predicated on overly goofy setups or catchphrase-desperate dialogue. The whole conceit was that these two physically divergent comedians would dress up in suits and perform blues music. The film takes this concept and runs with it, but there's never a point where they can jump the shark because they had established no other canon up to that point. Any story about their origins or even their life outside that studio stage was entirely up in the air.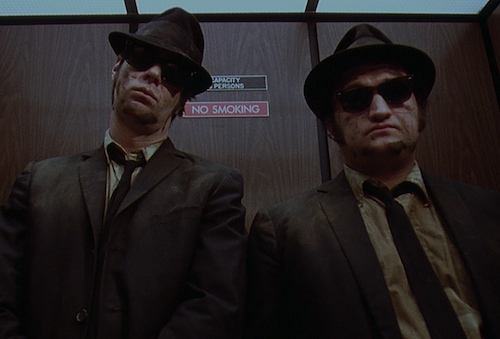 And holy harmonica, do they create a weird life story for them. They ride around in reconditioned police cars, wear their sunglasses at night (much like Corey Hart) and are chased cross-country by a group of Illinois Nazis. If that's not enough ridiculousness for your taste, they are also stalked by Carrie Fisher, Jake's ex-lover who is trying to kill them any chance she gets. She goes so far as to fire a rocket-propelled grenade at them and blow up their apartment. The ending of the film is a triumph of farce when a squadron of police cars following them ends up in a towering pile.
But the best thing about The Blues Brothers is the innumerable cameos and spectacular musical numbers. Everyone from James Brown to Ray Charles to Aretha Franklin shows up and leads jaw-dropping song-and-dance sequences. Throughout all these sequences, no matter how out of place they may seem, Jake and Elwood remain straight-faced and enthusiastically executing their choreographed moves. I think my favorite is the Cab Calloway performance of "Minnie the Moocher."
Overall, The Blues Brothers is one of the most entertaining and riotously funny musicals ever made. John Landis takes an esoteric piece of SNL lore and creates comedy gold. On top of all that, the movie is endlessly quotable. I defy you not to bat about the line, "we're on a mission from Gaahd" whenever possible.
If nothing else, you have to respect Jake and Elwood's sense of style.