We Can't Wait For Michael Fassbender's Weird, Unstable 'Frank'
Generally, indie dramedies tend to follow the same formula. There's usually a protagonist with a mess of a life that is an endless source of conflict with their significant other/crush/family/general loved ones, and who learns to pull themselves well enough to fix those fractured relationships. Or there's a dysfunctional family that is brought together by tragedy, or it's a touching coming-of-age story in which the hero grows in confidence and independence and finds a family of misfits to call their own, or even a band using music to heal themselves and each other. But rarely do you ever see a guy who refuses to take off his giant paper mache head.
Luckily, Frank is set to fill that void in the market with its titular character (Michael Fassbender), an eccentric, unstable, brilliant musician who prefers to see life through slightly creepy eyeholes. The film follows Jon (Domhnall Gleeson), an aspiring musician who is recruited to the Soronprfbs, a weird, creative band that includes the abrasive theremin player Clara (Maggie Gyllenhaal) and is fronted by… well, Frank. Somewhere in Brooklyn, an indie band is being forced to re-think its schtick. During their isolated recording trip to Ireland, Jon starts posting about the band online, and they start to gain a following, but the promise of success might just turn out to be Frank's undoing.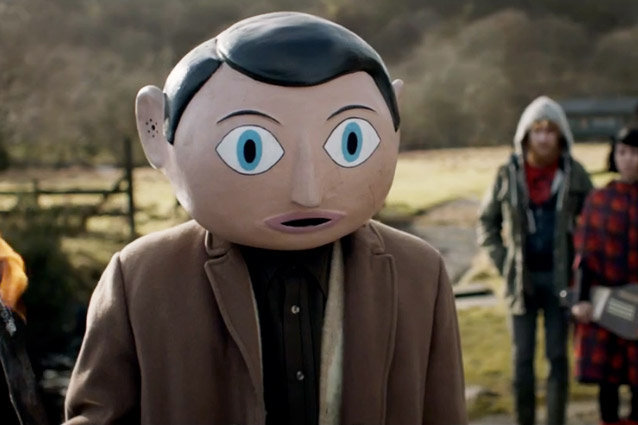 Magnolia Pictures
If the trailer is any indication, there's a lot more to Frank – and Frank – lurking underneath that fake head and weird, hipster aesthetics. In an industry that is becoming more and more hesitant to break away from proven properties and blockbuster reboots, it's exciting to see a film that takes its good-looking, well-respected and well-known star and covers up his head for the entire runtime. But Frank, who is based on the alter ego of comedian Chris Sively, also named Frank, is a strange, confusing figure, and Fassbender is exactly the kind of actor who can bring him to life, even if he can't manage to animate his face.
And even though Frank promises to deliver all of the unique quirkiness you can possibly handle in a two-hour sitting (they do play at SXSW, after all), it also promises to be a funny, compelling and even moving film about art and the weirdos that create it. If you can get past the creepiness of Frank's giant, unblinking eyes, that is.
Frank opens in theaters on May 9.