20 Fun Facts About 'Road House'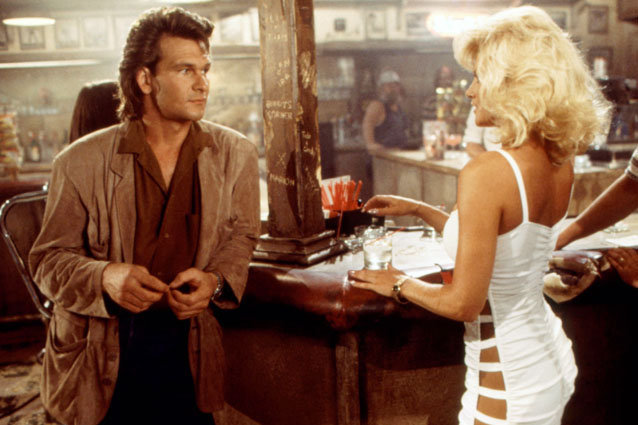 United Artists via Everett Collection
It all starts with a mullet and an attitude. By the time that Patrick Swayze appeared as the legendary bouncer (or cooler) Dalton in 1989's Road House, he was two years removed from his star making turn in Dirty Dancing. Audiences already knew that he could dance, but nobody knew that he could rip a guy's throat out with his bare hands.
In the 25 years since its release, Road House has become a cult classic, both for its over-the-top fight scenes and Swayze's mock-philosophical dialogue and awesome hair. With its frequent appearances on cable television, it's never out of sight for very long, but we've compiled some fun facts to help you enjoy the greatest bad movie ever the next time you find yourself drawn in by the majesty of Swayze. Just remember the immortal words of Dalton: "I want you to be nice, until it's time not to be nice."
1. Although the film is set in the town of Jasper, Missouri, the exterior of the film's infamous bar The Double Deuce was built strictly for the filming on location in California and then was torn down. Some of the interiors were shot, however, in a real bar in Anaheim that has since closed.
2. Screenwriter David Lee Henry has said that Dalton was named after the town of Dalton, Georgia. He stopped at a bar there during a road trip and it ended up serving in part as the inspiration for his script.
3. Dalton is shown reading Jim Harrison's Legends of the Fall, which is the basis for the 1994 Brad Pitt-Anthony Hopkins movie of the same name.
4. Movie trailers frequently feature parts that are subsequently cut before a film is released, but Road House has the unofficial record for the most occurrences of deleted scenes. The original trailer had at least five different clips that don't appear in the finished version.
5. The Jeff Healey Band, which serves as the house band of The Double Deuce, had their biggest hit "Angel Eyes" on the charts while Road House was still in theaters, but the song isn't from the movie. Healey, the blind Canadian guitarist, and his group recorded their album See the Light concurrently with the movie soundtrack.
6. In a sad coincidence, both Swayze and Ben Gazzara, who played Dalton's nemesis Brad Wesley, both died of pancreatic cancer… Swayze in 2009 and Gazzara in 2012.
7. As awesome as Swayze's mullet was, the actor himself didn't like it. In the book One Last Dance, Swayze's biographer Wendy Leigh quoted the actor as calling the Road House hair style the "bane of my existence."  
8. Red West, who played the owner of the auto parts store (also named Red), was a high school friend of Elvis Presley. West was a charter member of Presley's "Memphis Mafia" and functioned as one of the singer's bodyguards into the 1970s.
9. Even though Dalton famously says that "Pain don't hurt," the axiom didn't apply to Swayze. Among the various ways he was banged up during shooting was when Marshall Teague, who played Jimmy (the bad guy who gets his throat ripped out), hit Swayze with what he thought was a prop log… only to find out that it was actual hard wood.
10. One of the fired bartenders from The Double Deuce was played by John Doe, better known to music fans as the founder of the punk band X.
11. Kevin Tighe, who played Dalton's boss, bar owner Frank Tilghman, was better known for his work on television. He was one of the stars of the '70s hit Emergency! and later played Locke's father on Lost.
12. Even though Swayze is shown practicing t'ai chi, Dalton never actually uses that particular style of martial arts in the movie's fight scenes. Instead he uses moves from various sources, including the Korean discipline of hapkido.
13. Annette Bening was originally cast as "Doc," the ER doctor played by Kelly Lynch.
14. Lynch said in an interview with The AV Club that Bill Murray and his brothers like to call her husband, screenwriter Mitch Glazer (Scrooged), every time that they see Road House on TV to remind him about her steamy sex scenes with Swayze.
15. Lynch reportedly spent a month hanging around a real emergency room to prepare for her role. She learned the proper way to sew a medical stitch… but then the script was changed so that she never got to showcase her new skill.
16. Dalton had a thing for Buicks. Before he leaves for Missouri the "beater" car that he drives to protect his prized Mercedes is a 1964 Buick Riviera. Once he gets to Jasper, he buys the 1965 edition of the same car model.
17. Just as he had with Dirty Dancing, Swayze sings on the soundtrack and his song "Cliff's Edge" is heard on a radio in the film.
18. The Otis Redding song "These Arms of Mine" is used during one of the love scenes between Swayze and Lynch. In Dirty Dancing, the same song is used during the initial love scene between Swayze and Jennifer Grey.
19. Kitschy stage director Timothy Haskell did an off-Broadway retelling of Road House in 2003 titled Road House: The Stage Version of the Cinema Classic That Starred Patrick Swayze Except This One Stars Taimak from the '80s Cult Classic 'The Last Dragon' Wearing a Blonde Mullet Wig.Try saying that three times fast. 
20. Road House has been a running gag on both Mystery Science Theater 3000, where it was Crow's favorite movie, and in Family Guy, where Peter punctuates every fight by name-checking the film. Not to be outdone, teammates of Cincinnati Bengals' quarterback Andy Dalton call him "Road House" thanks to his surname.