Fun Facts About 'To Wong Foo, Thanks for Everything! Julie Newmar'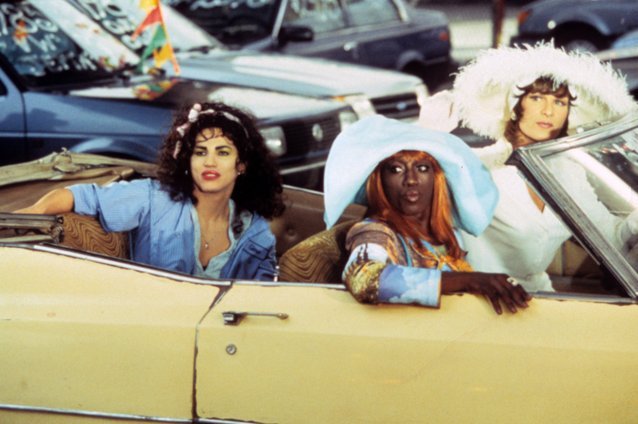 MCA via Everett Collection
To Wong Foo, Thanks For Everything! Julie Newmar was ahead of its time. Audiences can easily take for granted the immense importance of this film. It's a high profile film in the 1990s that features three high profile actors, Patrick Swayze, John Leguizamo, and Wesley Snipes playing gay men. Granted, they spend 99 percent of the movie in drag, but the film is monumental for the community. There's wider acceptance of the gay community, appreciation for the art form of drag due to RuPaul's Drag Race, and education about the clear distinctions between drag performers and trans women. But in 1995 this wasn't the case. Sadly, this film is considered more of a cult classic than a major motion picture. All the same, the film is hilarious, quotable, and politically responsible. Here are some fun facts about the film:
Wesley Snipes and Jennifer Garner got to second base with the same man.
Before he found success on Alias, Garner's ex Michael Vartan had a major role in this film. In one scene, he antagonizes the ladies and Snipes grabs his privates and drags him by his member for an extended period of time.
Queen of 30 Rock
 
You might think that Tracy Morgan and Snipes look equally bad in drag, but the real connection is Kathy Geiss. The nonverbal, unicorn loving CEO of GE was played by Marceline Hugot. She plays Katina one of the town's residents in the film.
One Degree from Mindy Kaling
As great as it would be to imagine Kaling playing a character named Noxema Jackson, the real connection is Beth Grant who plays The Mindy Project's irate nurse Beverly also played irate townsperson Loretta.
Catwoman Connection 
Not only did the three leads all star with notable Catwoman Newmar in this film, all three have also starred with the most infamous Catwoman Halle Berry. Leguizamo in Executive Decision, Swayze in Father Hood, and Snipes in Jungle Fever. Snipes even dated Berry. 
Start Your Engines, May the Best Woman Live
Leguizamo has not been shy about his major friction with the late Swayze on set. Swayze was method and Leguizamo was improvising and making jokes to get more screen time. He says the two physically got into a fight until it was broken up by production. ChiChi, you in danger, girl!
A Cavalcade of Drag Stars
This film was one of the first major motion pictures about drag. It gave early acting credits to RuPaul, Lady Bunny, Coco Peru, Laritza Dumount, and Flotilla DeBarge. It also was a major credit for the first transwoman on television Candis Cayne. Talk about helping to define the stars of tomorrow.
Work it Out!
David Barton the founder of the popular New York City gym franchise has an early role as a muscle boy.
Drag is Leguizamo's Bread and Butta'
By the time he did To Wong Foo, Leguizamo had already becoming accustomed to acting in drag. He played female roles in his one-man shows Mambo Mouth, Spic-O-Rama, and on his Fox series House of Buggin'.
Robin Williams: The Drag Years
Although uncredited with his hilarious cameo, this film is sandwiched between Williams other two drag movies. In 1993, he gave old lady realness in Mrs. Doubtfire. In 1996, he played husband to a drag performer in The Birdcage.
Thanks for Everything, Carol Lynley!
Before the producers secured the rights to Newmar's name their alternate actress for the iconic photo that inspired the queens was Fantasy Island star Lynley. It doesn't have the same ring to it, and she isn't quite as statuesque.
It all goes back to Chinese Food.
The name of the film was taken from a photo at a Times Square Chinese Restaurant that was later seen in the film where the ladies find the photo.
Curse of Wong Foo?
Both Mel Gibson and Gary Oldman were in talks to potentially play drag queens in the film.
Is that a corn cob in your pocket, ma'am?
Swayze surprised Chris Penn during the scene where he discovers Vida Boheme is a man. He hid a corn cob in his dress. Way to commit.