'G.I. Joe' Producer on Deciding Channing Tatum's Fate — SPOILERS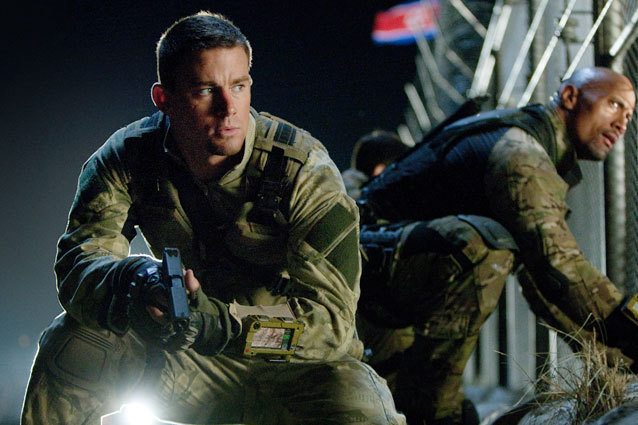 If you were hoping that G.I. Joe: Retaliation would continue Channing Tatum's epic run of hits from 2012, well, you're only partially right.
Beware: Spoilers For G.I. Joe: Retaliation To Follow!
Those who caught the toy-inspired sequel this weekend know what many of us presumed to be the case since the very first trailers for Retaliation arrive on the web: Tatum was destined to die. And he did — in a explosion of dusty, dirty glory.
Many have speculated why the creative team behind G.I. Joe: Retaliation would kill off one of the movie's bigger stars, especially after rewiring his "Duke" to become a lively, humorous reinterpretation of the character from G.I. Joe: Rise of the Cobra.
RELATED: 'G.I. Joe' Producer on 'Star Wars' Connections, 'Transformers 4,' And 'Salt 2'
Turns out, all that speedy character building was just a move to pull the rug from under the audience's feet. Producer Lorenzo di Bonaventura told us it was a dramatic tool he's used in the past and thought it would be a perfect way to shake up the expectations of Joe.
"I did it once on a movie a long time ago called Executive Decision… I always liked that movie," di Bonaventura says. "Killing [Steven] Seagal gave that movie such a great sense of gravity. You took everything seriously after that. And our thought early on was if you killed a character, you were going to do that."
Di Bonaventura knows that Rise of the Cobra has both fans and critics (although he'll defend it as one spot on interpretation of the Joes mythology), and he's still unsure if Retaliation needed the full on internal reboot approach. "Channing would not have been my first choice to do that with," he says. "It just ended up being that character. I think in any action movie when you have someone who is supposed to be important to the team and they die, no matter how preposterous you get, everything has an element of 'anything bad is possible.' People take the movie more seriously."
RELATED: Jon Chu Breaks Down 'G.I. Joe's' Biggest Action Scene
Killing off Tatum's Duke was even bolder move because of director Jon M. Chu's love for the series — in his gut, he knew it would be the right move. "Jon … had an internal metronome for what the Joes were," di Bonaventura says. "Having grown up and been a genuine fan of it, his sense of how far you could take things… he wasn't afraid in certain situations." According to the producer, Chu knew when his decisions were going to work, even if other members of his team were skeptical. He knew the Joes that well. "That was a big aspect of his directing, a confidence about what the material was. It showed in some of these choices. To be willing to direct a movie where you kill off Channing Tatum. That's a ballsy decision. It just is."
So does di Bonvantura have any regrets after sending Duke to the grave? "I'll tell you one thing: having done it, it's sad in a way because, boy, Channing and The Rock have great chemistry together."
Follow Matt Patches on Twitter @misterpatches
[Photo Credit: Paramount Pictures]
---
You Might Also Like:


15 Oscar-Winning Nude Scenes


10 Insane 'Star Wars' Moments You Didn't Notice