Gekko's Stock High at Box Office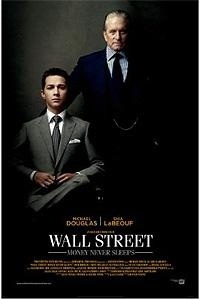 It turns out that not only greed is good, but $19 million at the box office is pretty sweet as well as iconic movie villain Gordon Gekko makes his return in Fox's Wall Street: Money Never Sleeps.  Michael Douglas reprises his role made famous in director Oliver Stone's 1987 "Wall Street" which opened the weekend of December 11 of that year with a $4.1 million debut.  The film opened in just 730 theatres and went on to earn $43.3 million at the domestic box office or roughly friendly ten times the opening weekend or about $87 million in today's inflation-adjusted dollars.  While that does not seem like a huge gross, the film certainly made an impact on the popular culture, made Gordon Gekko a screen icon and made the phrase "Greed is Good," a national catch phrase.
Check out this Wall Street themed comic strip from Francesco Marciuliano.  Francesco writes the internationally-syndicated comic strip "Sally Forth" and the webcomic "Medium Large." He was the head writer for the PBS series "SeeM

ore's Playhouse," for which one of his episodes won two 2007 Daytime Emmys. He currently writes for the Onion News Network.
At number two with $16.3 million is Warner Bros.' Legend of the Guardians: The Owls of Ga'Hoole.  The IMAX presentations earned about 11% of the total or $1.7 million this weekend which is a strong percentage for an IMAX family (which typically land in the 6% to 8% range).  Director Zack Snyder who built his reputation on highly-stylized R-rated fare such as 300 and Watchmen, now ventures into family-friendly PG-rated territory.  With very few options in the marketplace for the family crowd, the owls were able to gather up a respectable second place finish.
In third with $16 million is Ben Affleck's The Town from Warner Bros. which opened last week to number one and as expected had a tiny second weekend drop of 33% and is closing in on $50 million.  The R-rated ensemble drama which boasts terrific performances from Jon Hamm, Jeremy Renner and Rebecca Hall is certain to garner continued audience support and Oscar buzz. Director Ben Affleck has also been receiving strong positive reaction to his directorial skills and could grab himself a directing nomination for his work.
Sony's Easy A continues to make good grades for the studio with another $10.7 million against a minimal 40% drop and a domestic cumulative of $32.8 million.  With an $8 million production budget, star Emma Stone has proven herself to be an appealing and profitable draw for teen audiences.  
Finally the top five is rounded out by the newcomer You Again from with a weekend gross of $8.3 million.  Skewing over 70% female, the ensemble comedy boasts a cast including Kristen Bell, Sigourney Weaver, Kristen Chenoweth and the always terrific Betty White.  
In the indie world, Catfish from Universal/Rogue saw an 83% uptick vs. last weekend in 45 more theatres and nearly $500k for the weekend.  Woody Allen also proves his drawing power with Sony Pictures Classics' You Will Meet a Tall Dark Stranger which in only 6 theatres earned an impressive $163,474 (or $27,246 per theatre) in its opening weekend.  Paramount Vantage saw the opening of the Davis Guggenheim documentary Waiting for 'Superman' perform well with a solid $141k in just 4 theatres and an impressive $35,250 per theatre.  Overture Films' Jack Goes Boating added 35 theatres in its second weekend and realized a 197% uptick and $86k for the weekend and $127,612 to date.
Fall is here and audiences can find some very unique and interesting films in the marketplace.  As is typical for this time of year, diversity and often quality reign supreme particularly in the world of independent film and these offerings are worth looking for in their limited theatrical runs.
Next week Sony's well-reviewed The Social Network, Overture Films' brilliant re-make Let Me In and Paramount's Case 39 make their debuts.
Box Office fun fact: On this day (9-26) in 1986 Crocodile Dundee opened with $8 million and went on to earn (crikey!) a whopping $174.8 million!
Top 10 Movies – Weekend of September 24, 2010 (Estimates)
Movie
Weekend
Total
1
Wall Street: Money Never Sleeps (PG-13)
$19.0 M
$19.0 M
2
Legend of the Guardians: The Owls Of Ga'Hoole (PG)
$16.3 M
$16.3 M
3
The Town (R)
$16.0 M
$49.1 M
4
Easy A (PG-13)
$10.7 M
$32.8 M
5
You Again (PG)
$8.3 M
$8.3 M
6
Devil (PG-13)
$6.5 M
$21.7 M
7
Resident Evil: Afterlife (R)
$4.9 M
$52.0 M
8
Alpha and Omega (PG)
$4.7 M
$15.1 M
9
Takers (PG-13)
$1.7 M
$54.9 M
10
Inception (PG-13)
$1.2 M
$287.0 M