'Glee' Star Lea Michele Ditches New York for Oz — VIDEO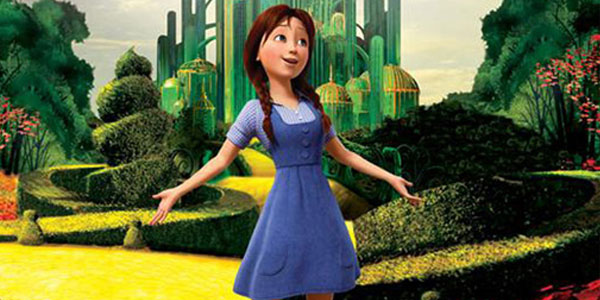 Somewhere over the rainbow a scarecrow, a tin-man and a formerly cowardly lion are in grave danger, and once again it's up to Dorothy to save the day. Oh, and her little dog too! In the newest adaptation of the cult classic, Glee's Lea Michele lends her phenomenal voice to the big screen as the leading lady in Dorothy of Oz.
When the Kansas native is magically whisked back to the land of the yellow brick road, she finds the newest villain — an evil jester — is causing havoc. "Toto this doesn't look like the Oz I remember," Dorothy whispers. Now our favorite braided brunette is on a quest to find her old friends, and she meets plenty of new ones along the way.
Joining Michele in this new adventure is the sensational Megan Hilty from NBC's hit drama Smash. Hilty portrays China Princess, a new character in the animated flick who's bossiness is a cover for her fragility. "So this is the famous girl who vanquishes wicked witches? I thought you'd be taller," the doll-sized princess quips.
The latest chapter in the Oz odyssey will feature plenty of other big names, including Martin Short, Dan Aykroyd, James Belushi, Kelsey Grammer, and Bernadette Peters as Glinda.
Check out the newest trailer for Dorothy of Oz below to hear Michele belt out a soon-to-be hit song, and get a sneak peek of her upcoming adventures in Oz!
Dorothy of Oz will hit theaters in 3D next year.
Follow Leanne on Twitter @LeanneAguilera
[Photo Credit: Summertime]
MORE:
'Glee' Sneak Peeks: Lea Michele on Finchel's Fate and Her Naked New Man
'Glee' First Look: We Break Down The Season Four Portraits!
'Glee'k Out! Why Are Dianna Argon and Jayma Mays Missing? — PIC