'Godzilla' + Zombies? 'Walking Dead' Creator to Rewrite Script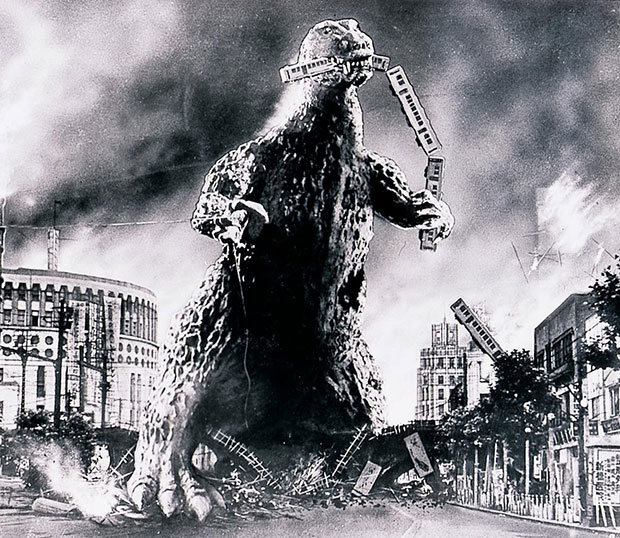 Frank Darabont has made his cinematic career on bringing old monsters back to life. In addition to his recent Walking Dead fame (he created and was subsequently ousted from the AMC hit series), screenwriter Darabont handled the scripts to big screen horror remakes, sequels, and adaptations like Frankenstein, The Blob, The Mist, The Fly II, and Nightmare on Elm Street 3. Deadline reports that the pattern will pick up with a new union between Darabont and Legendary Pictures: the monster movie mainstay is allegedly joining the production company's developing Godzilla film to rewrite the script. Hollywood.com has reached out to Legendary for further confirmation.
According to Deadline, the film in undergoing a kaiju-sized overhaul. Legendary is opting to remove producers Dan Lin and Roy Lee (both of Warner Bros.) from the project. Although we haven't seen much of this new Godzilla feature yet (the only material thus far released was exclusive to San Diego Comic-Con attendees), we might be in for a massive change in whatever WB already had pickling in the brine. Still, the film is slated for its original release of May 2014.
In addition to this potential feature, Darabont also has his non-monster-related L.A. Noire series on the horizon for FX.
[Photo Credit: Toho]
More:
'Texas Chainsaw 3D' Stars Alexandra Daddario and Trey Songz Promise Big Scares
New 'Star Trek Into Darkness' Photos Show Kirk, Pike, Scotty, and Baddie John Harrison
'Carrie' Remake Delayed, Headed for a Spookier, Halloweenier Release

'Texas Chainsaw': Top 5 Leatherface Kills (Moviefone)