'Grudge Match' Trailer: Robert De Niro and Sylvester Stallone Enter the Ring
Once an actor reaches a certain age, they tend to slow down a bit. After a while, it becomes time to leave the physical roles to the young whippersnappers and ease into more sedentary characters, like say a snarky grandpa, or disgruntled police chief that constantly threatens to take away everyones badge. This might make sense for most actors, but don't tell any of that to Robert De Niro or Sylvester Stallone. Both actors, no doubt with unopened applications for the AARP piling up on their front porches, have decided to keep doing demanding roles. This trend continues with their newest comedy Grudge Match.
In the upcoming film, Billy "The Kid" McDonnen (De Niro) and Henry "Razor" Sharp (Stallone) are retired boxers well past their prime, fitness and popularity wise. The men harbor a deep-seated hatred for one another since their careers ended 30 years ago. When the boxers are asked to participate in a video game, the two get into a hard hitting knock-down drag-out that goes viral and has fans clamoring for the two to step into the ring for a one time rematch.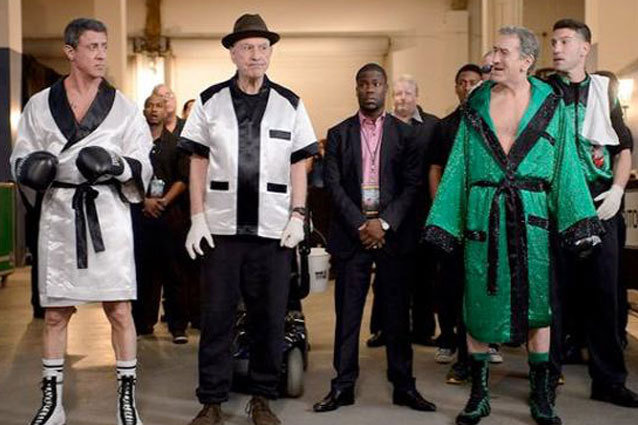 Warner Bros.
Stallone has been doing steady work in the action genre with films like Bullet to the Head, Rambo, and The Expendables  series filling up the "achievements after 60" section of his résumé, while Robert De Niro taking on physical roles in films like Killing Season. With this role and his role in the recently released Luc Besson film The Family, De Niro seems to be revisiting his most iconic characters and giving them a comedy twist. In The Family, he played a aging mobster akin to his work in Goodfellas while in this film, he's channeling his Raging Bull character, Jake LaMotta for laughs.
De Niro and Stallone have both played the most iconic boxers in cinematic history, so it's fitting that they are coming together for one rinal round in the ring. It's like all your fantasies for the Rocky/Jake LaMotta match up have finally come to fruition.
More:
Robert De Niro in 'The Family' Trailer
'Rambo' TV Series May Land Sylvester Stallone
'Killing Season' Trailer
---
From Our Partners:


A Complete History Of Twerking (1993-2013) (Vh1)


15 Stars Share Secrets of their Sex Lives (Celebuzz)