Other Films and TV Shows Where You Can Find the Guardians of the Galaxy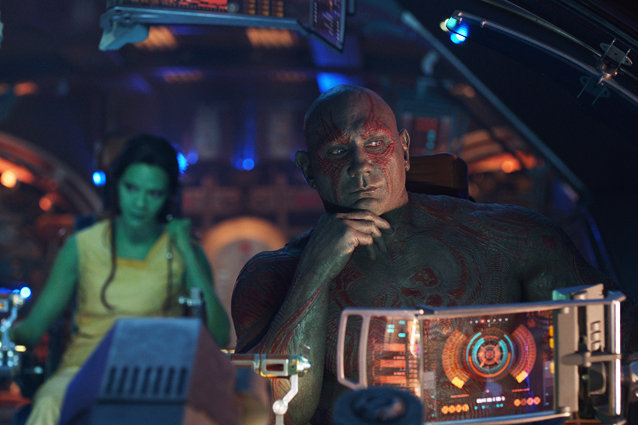 Walt Disney Pictures/Marvel
There's a pretty good chance you had heard of Iron Man, Captain America, Thor, and for certain the Hulk prior to their big screen debuts in the Marvel cinematic canon. But the Guardians of the Galaxy are a more esoteric lot. Only those well versed in the publishing company's history will approach this weekend's feature film with any familiarity with Star-Lord (Chris Pratt), Gamora (Zoe Saldana), Drax the Destroyer (Dave Bautista), Rocket Raccoon (Bradley Cooper), or Groot (Vin Diesel). But rest assured: they've been around. And if you dig them in Marvel Studios' Guardians of the Galaxy (which we sure did — check out our review), you'll have the opportunity to check them out elsewhere.
Granted, James Gunn's film does do its share of reinventing in regards to its central fivesome. Well-read fans might notice a new take on Peter Quill's backstory or Drax's species, and newcomers could discover some inconsistencies upon pursuing extracurricular material in light of their blossoming love affairs with the Guardians. But the spirit of the heroes is very much alive in Gunn's Guardians of the Galaxy, ditto many of the features and TV series listed below. As such, embrace your affection for the oddball quintet and check out any and all works that will allow you more time with the gang. Here's where to begin:
Planet Hulk
Star-Lord and Gamora both appear in the 2010 direct-to-video animated film (which has been tossed around the Internet discussion boards as viable source material for upcoming Avengers movies), but without speaking parts.
The Avengers: Earth's Mightiest Heroes
Airing on May 6, 2012 (funnily enough, the same weekend that The Avengers hit theaters), the animated series' episode "Michael Korvac" featured Star-Lord, Rocket Raccoon, and Groot as temporary foes of the series' heroes — a league including, at this point, Iron Man, the Hulk, Hawkeye, and Ms. Marvel — when a battle is waged over the capture/safety of the mysterious titular individual. In the episode, voice actors Steve Downes, Greg Ellis, and Troy Baker voice Star-Lord, Rocket, and Groot respectively.
Ultimate Spider-Man
The entire gang banded together (and with a pretty impressive team of vocie actors) for the animated series' aptly named July 2013 episode "Guardians of the Galaxy." The aforementioned Korvac returns as an intergalactic menace with an army of Chitauri, forcing Spider-Man to seek the assistance of the Guardians in the interest of his defeat. Star-Lord is voiced by Marvel regular Chris Cox, Gamora by comedian Nika Futterman, Drax by David Sobolov, Rocket by Billy West (the voice behind Doug Funnie and Futurama's Philip J. Fry), and Groot by the late Michael Clarke Duncan.
Avengers Assemble
Just this past April, we got to see all five Guardians take center stage on this animated series' episode "Guardians and Space Knights." Iron Man leads the rest of the Avengers to a distant planet, where they and the Guardians of the Galaxy join forces to stop an impending attack from Galactus. Voice actors Chris Cox, Nika Futterman, and David Sobolov return; meanwhile, Rocket earns the familiar voice of actor and geek icon Seth Green, and Groot is portrayed by Kevin Michael Richardson.
Hulk Agents of S.M.A.S.H.
An upcoming episode of the animated series will feature the whole gang back together again, with returning voice actors Cox, Futterman, Sobolov, Green, and Richardson.
And, for a bit of a throwback…
Silver Surfer 
Gamora makes a few appearances in this late '90s animated series, the first of which being in the two-part episode "Learning Curve," which also featured Drax the Destroyer… albeit a very different version: he was an android, and the servant to the Titanian leader Mentor. Together with Silver Surfer and his pal Pip, Drax helps to stop Thanos (hey, he's in the movie too!) from taking over the universe. Gamora would later show up in episodes "Antibody" and "Radical Justice." In this series, Drax is voiced by Noam Spencer and Gamora is voiced by Mary Long and Alison Sealy-Smith.
But before you check out any of these entries, see the film in theaters now!