Hamptons Film Fest: 'The Discoverers' Reminds Us Why We Need Griffin Dunne in Our Lives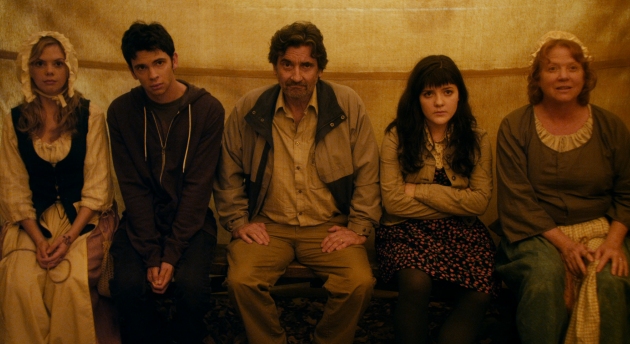 The down-on-his-luck schlub in need of soul-searching is a common role in the world of indie comedy, so it becomes an act of casting magic to enliven the trope with energy. In the case of The Discoverers, the feature debut from director Justin Schwarz that premiered at the Hamptons Film Festival, the brilliant recruitment is of actor Griffin Dunne.
Dunne is the ultimate bookish everyman. Unlike Hollywood's A-list leading men, who eventually all take a step back into the indie world to try and earn some reliability cred, Dunne has always owned his simple appearance. The natural advantage grounded the monster horror flick An American Werewolf in London in a terrifying reality. On Martin Scorsese's After Hours, he barreled through the chaos of New York City's underbelly as a guy who had no right being there. Dunne isn't a one note performer — he can play confident (his stint on Damages), broadly comical (Johnny Dangerously, or a variation of himself (Stuck on You — but the right tweed jacket can transform him into someone we all know. This is the heart of The Discoverers, which demands that quality more so than any of Dunne's previous work.
In The Discoverers, Dunne plays Lewis Birch, a former university professor attempting climb back up from the intellectually vapid halls of community college (where he now works) with the publication of his history-rattling book on Lewis and Clark. On his way to the convention that will mark the beginning of his upswing, Birch is informed that his mother is on death's store and that it would behoove him to check in with his family. Despite his antagonistic feelings for the eclectic bunch, he throws his two kids Zoe (Madeleine Martin) and Jack (Devon Graye) in the car and bites the bullet on confronting his past.
Lewis' major hurdles feel typical of The Discoverers predecessors, and even the way Schwarz shoots the film's set up feels overly familiar (drab suburban landscapes, wide shots straight on the subjects). But Dunne does heavy lifting here; well in his 50s, the everyman we once knew really looks like a down-on-his-luck schlub and Dunne's physicality carries us through those first twenty minutes.
And thank God he does: The Discoverers gets a major kick in the butt when it's real conceit is revealed. Lewis' Dad is a reenactor of the most dedicated kind (his subject of choice, of course, being Lewis and Clark's expedition). When Lewis' mother passes away, Dad goes mute, committing himself fully to an annual camping trip in which he and his costumed troop relive the famous American journey. To ensure that his Dad doesn't go off the deep end, Lewis and his kids join the crew. It's a backwoods twist that's more than welcome.
Schwarz surrounds Dunne with comedic talent that make the great outdoors adventure even more bizarre. John C. McGinley, David Rasche, Ann Dowd, and Apartment 23's Dreama Walker are like the human versions of the Rosetta stone: they translate The Discoverers' quirk factor into real entertainment. Cara Buono plays a lovely renactor who has problems of her own but finds herself warmly responding to Lewis plight. All perfectly natural when you see her and Dunne conversing by the fire.
The Discoverers gets lost in woods of indie land at times, with a few of its asides feeling arbitrary and reaching jokes, but Schwarz assembled the perfect cast to tell his story. You won't realize how much you want more Griffin Dunne in your life until you put a little Griffin Dunne in your life.
[Photo Credit: Quadratic Media]
Follow Matt Patches on Twitter @misterpatches
More:
'Sopranos' Creator's 'Not Fade Away' Captures the Soul of '60s Rock — EARLY REVIEW
'Smashed' Stars on The Highs and Lows of Getting Sober
'Life of Pi' Paints Breathtaking 3D Spectacle from Exploration of Faith — EARLY REVIEW