'Hansel & Gretel' To Spin Box Office Fairytale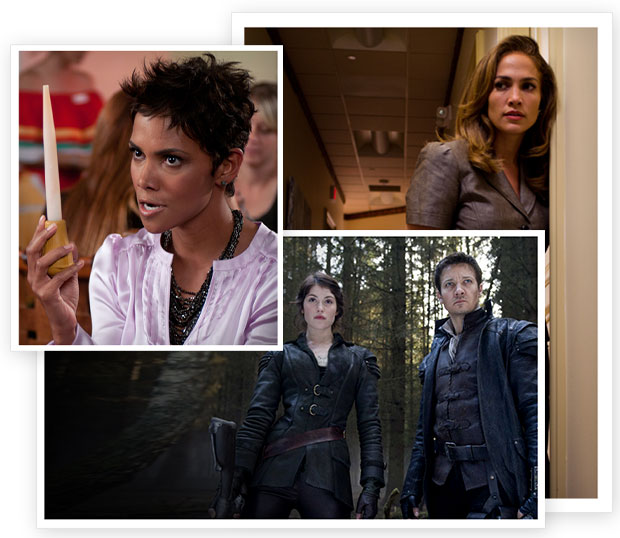 Paramount Pictures (in a co-production with MGM) brings to the big screen (in 3,372 theaters) an amped up version of the Brothers Grimm fairy tale Hansel and Gretel: Witch Hunters in both 3-D and IMAX this weekend. The films stars The Hurt Locker's Jeremy Renner as Hansel and Gemma Arterton (The Prince of Persia) as Gretel in this R-rated and decidedly updated take on the classic tale. At a mere 88 minutes the film blends action, horror & fantasy into a very unusual hybrid of a movie that could obliterate the competition this weekend with a gross in the mid-$20 millions or possibly higher.
RELATED: 10 Pop Culture-Inspired Gingerbread Houses
Sony's Zero Dark Thirty will enter its third weekend of wide release (in 2,929 theaters) with tons of momentum and a Time Magazine cover story on the movie and director Kathryn Bigelow. Having played second fiddle to the newly opened (and hugely successful) horror film Mama in the mid-week derby, could the R-rated real life story of the manhunt of Osama Bin Laden could give Mama a kick in the butt this weekend? With both expected to deliver grosses in the $10 million range, we shall see.
Relativity Media brings Movie 43 to theaters this weekend with an enormous ensemble cast that includes among many others, Hugh Jackman, Halle Berry, Emma Stone, Chloë Grace Moretz, Gerard Butler, Elizabeth Banks, Kristen Bell and Naomi Watts. The movie uses the novel approach of having 12 different storylines, each one helmed by a different director and is reminiscent of The Kentucky Fried Movie released in 1977 and directed by John Landis. The film is a bit of a wild card given its unusual construction, but this could play well with younger audiences this weekend and a gross in the $8 to $12 million range could be the result.
RELATED: Arnold Schwarzenegger's 'Last Stand' Bombs: Why Didn't Audiences See His Comeback?
Jason Statham is perhaps the hardest working man in show business with some 30 films to his credit and over $2 billion in worldwide box office revenues. He appeared in 5 films in 2011 and 5 in 2008 as well, building a reputation as a kick ass action star with a no-nonsense approach and a wry sense of humor. This weekend he appears in Film District's Parker in the titular role as a professional thief who has a very strict code of ethics. The film co-stars Jennifer Lopez as his unlikely partner in crime, Michael Chiklis and Nick Nolte. Taylor Hackford (An Officer and a Gentleman, Ray) directs the R-rated thriller based on the series of bestselling novels by Donald E. Westlake. Statham's last non-ensemble movie Safe opened with $7.9 million back in April of 2012 and The Mechanic which opened in a similar late-January timeframe in 2011 debuted with $11.4 million. Parker should wind up somewhere between those two films with a possible $9 million this weekend.
RELATED: Jessica Chastain Delivers One-Two Punch at Box Office with 'Mama' and 'Zero Dark Thirty'
Last weekend The Weinstein Co.'s awards season darling Silver Linings Playbook added 1,713 theaters and jumped from 10th to third placed in the process. Maintaining its solid third place position mid-week, it will likely see a modest drop this weekend for a gross in the $8 million range and crossing the $60 million mark by Sunday night.
[IMAGE CREDIT: Universal Pictures; Film District; Paramount Pictures]
---
You Might Also Like:

Who Wore This Crazy Hat?

Stars Who Changed Their Look