Here Are 10 Classic Holiday Movies To Watch Right Now
With hundreds of holiday movies, watching a classic holiday film is like comfort food for your eyes. Take a look at our list of the top 10 holiday movies, including some Hollywood classics from 1946 all the way up until 2011. Pour yourself a mug of hot cocoa and settle in for some nostalgia!
---
A Christmas Story (1983)
"You'll shoot your eye out!" It's no surprise that A Christmas Story is at the top of our list. This film, which is often played continuously on cable network channels, is a holiday staple worth watching on repeat.
---
Arthur Christmas (2011)
You might be surprised to see this 2011 animated film on our list, but we're here to keep you guessing. Considered a "new Christmas classic," this family-friendly holiday film takes you behind the scenes of how Santa manages to deliver billions of presents in just one night…until one child is missed.
---
Elf (2003)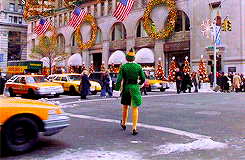 Some would say this is the world's best holiday movie (and anyone who has seen Elf will get this reference). Make a plate of spaghetti with maple syrup (or maybe just have some cookies) to watch this family-friendly movie, filled with plenty of life lessons to be learned from Buddy The Elf.
---
It's a Wonderful Life (1946)
This 1946 film is the oldest Hollywood movie on our list. Did you know that critics originally hated it? Over 80 years later, this holiday movie is still shown in movie theaters worldwide. Winning five Academy Awards, you could say those critics were wrong!
---
The Muppet Christmas Carol (1992)
This delightful musical comedy is a kid-friendly version of The Christmas Carol, directed by Jim Henson's son Brian Henson. This is another classic holiday film often replayed in local movie theaters–check your local theater to see if there are any showtimes near you.
---
Miracle on 34th Street (1947)
Santa Claus, a criminal?! Another old Hollywood classic starring Maureen O'Hara and John Payne. Although there was a remake in the 1990s, nothing beats the original.
---
The Nightmare Before Christmas (1993)
While there's an ongoing debate on whether this is a Christmas or Halloween movie, this Tim Burton film is the perfect holiday movie to watch to contrast all of the merry and bright films on this list. Apparently, Disney fought hard for Jack to have eyes, but the creators wouldn't budge. There are plenty more surprising facts about this dark film worth learning before you rewatch.
---
Prancer (1989)
Prancer follows Jessica, a 9-year-old girl who discovers an injured reindeer in the woods who she believes to be Prancer, one of Santa's reindeer. Despite the skeptics, she continues to believe in the magic of Santa, so she works to bring Prancer back to health and return him to Santa.
---
The Santa Clause (1994)
This 90s comedy starring Tim Allen as Scott Calvin, a toy salesman who no longer believes in Santa. That is until a small technicality makes him the next Santa Clause.
---
White Christmas (1954)
There's no place like Hollywood, the land of warmth and palm trees, to make us all dream of a white Christmas. This old classic starring Bing Crosby and Danny Kaye was filmed mostly on the sound stages at Paramount Studios.
---
Each one of these 10 Classic Holiday Movies made the "nice list" of holiday movies for us. Do you agree with our list? Let us know on Facebook.