Here's a Movie for Every State in America. Because We Love America. And We Love Movies.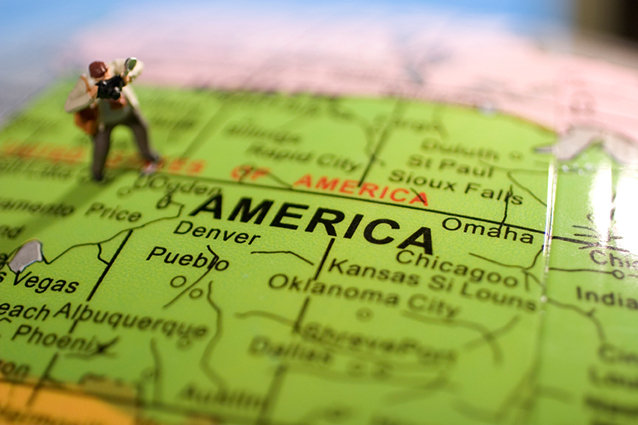 On this 237th birthday of our dear country America, we all band together in our patriotism. Yes, we do have quite the uniting country indeed… despite it being split up into 50 states, all of which vehemently hate the other 49 (especially Jersey).
But as brethren of the same land, we must find common ground. We must find something to appreciate each of the states from which we do not hail. The best way to do that: Movies. Hollywood.com has taken a look at every corner of our land of the free and pinpointed the big screen feature that best exemplifies each of the 50 states. Check below, and see if your home state is represented by a particular favorite of yours.
Alabama
Forrest Gump
Sure, he ran all around the country, but that Greenbow pride stuck with him. 
Alaska
Out Cold
Wacky, off-kilter, and a gem that nobody ever talks about. Just like Alaska. 
Arizona
Psycho
From the creepiest corner of the country comes the creepiest movie ever made.
Arkansas
True Grit
Remake or original, both have that AK charm.
California
Clueless
Never before has the Valley been so astonishingly well represented. 
Colorado
The Shining 
Beautiful and inspiring, but haunting nonetheless — we mean the film and the state.
Connecticut
Mystic Pizza
Soft-spoken and charming? A little bit sad, but able to laugh? That's Connecticut for you.
Delaware
There are no memorable movies set in Delaware. Sorry, Delaware. Sorry, everybody. 
Florida
Spring Breakers
(Shudder)
Georgia
The Legend of Bagger Vance 
Ah, that whimsical mystery that soars through the Georgia winds… the kind of mystery only a Will Smith Ghost could convey onscreen.
Hawaii
Lilo & Stitch
Hawaii is such a fantasy land that only an animated Disney flick could appropriately capture its presence.
Idaho
Napoleon Dynamite
Slow moving, weird, and possibly ingenious. From the fields of Idaho comes a cult classic that nobody could stop quoting for years.
Illinois
Ferris Bueller's Day Off
Danke schoen for Chicago and its favorite son, John Hughes. 
Indiana
Breaking Away
A sleepy state with firecracker passion gives us a coming-of-age dramedy that can be described just the same.
Iowa
What's Eating Gilbert Grape? 
Sad, lonely, desperate, hopeless… No. Not hopeless. Just remember: We can go anywhere.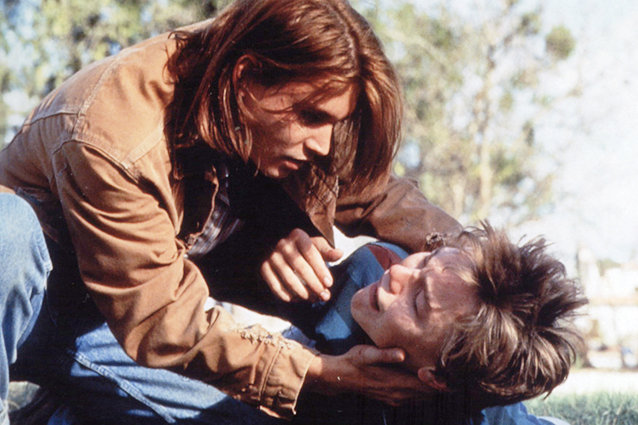 Kansas
The Wizard of Oz
Oh gee, as if there was any alternative? 
Kentucky
Goldfinger
You don't think of James Bond as a Southern boy, do you? Well, he payed a visit to the Bluegrass State in this classic chapter.
Louisiana
Steel Magnolias
That heartfelt hometown passion for which Louisiana is famous just courses through the beloved modern classic.
Maine
Casper 
The other creepiest corner of the state gives us a slightly more charming ghost story. 
Maryland
The Blair Witch Project
And we thought the scariest thing in Maryland was Omar Little… 
Massachusetts
Jaws 
Celebrate Boston pride all you want with The Departed, but Jaws captures everything that a Martha's Vineyardian knows to be home.
Michigan
American Pie 
Great Lakes, great friends, great stories… and hardly a worry in the world. American Pie, you've got Michigan right.
Minnesota
Grumpy Old Men 
I think just about everyone in Minnesota is in fact 75 years of age or older. 
Mississippi
The Help 
Granted, Mississippi has come a long way since the days of The Help, but it still has that connotation… 
Missouri
Waiting for Guffman
We'll be honest. We've never been to Missouri. We don't know anyone from Missouri. We have no idea what Missouri is like. But we imagine (and hope) it's exactly like Waiting for Guffman.  
Montana
A River Runs Through It 
That old mountain spirit, that true American flavor, that's what Montana, and this Robert Redford classic, are about.
Nebraska
Election 
We always thought there was something suspicious lurking underneath that oh-so-perfect Nebraska… Tracy Fleck just might be the state incarnate. 
Nevada
Fear and Loathing in Las Vegas
Sorry, Nevada, but you're just Vegas to the rest of the world. Crazy, drug-addled Vegas. 
New Hampshire
Lolita
Things are a bit off all throughout the beautiful, jovial, captivating Granite State, and throughout Stanley Kubrick's classic comedy.
New Jersey
Clerks 
Angry, grungy, and highly polarizing. Yep. Clerks is Jersey. 
New Mexico
City Slickers
Yes, this movie is about people from other states visiting New Mexico… but isn't that what the real New Mexico is all about, anyway?
New York
Annie Hall 
A symphony of neuroses, heartbreak, and wide-eyed fantasy, Annie Hall is everything that the unstoppable city of New York has to offer.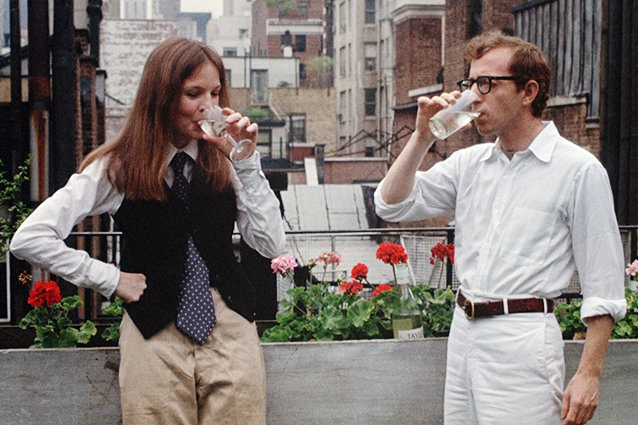 North Carolina
Bull Durham
This movie is set in North Carolina. So it wins.
North Dakota
Fargo 
Oh yah. Quite a sinister tone under this kooky snow-laden state and its signature film, yah.
Ohio
Tommy Boy
The good-natured values of hard work and friendship? That's the cornerstone of Ohio livin', we tell you. 
Oklahoma
Oklahoma!
Um… duh.
Oregon
The Goonies
When Oregon learned it was finally getting a movie, the entire state cheered: "It's our time."
Pennsylvania
Rocky
Pennsylvania is just another nickname for Philadelphia, right?
Rhode Island
Dumb and Dumber

Yes, a good portion of the film takes place on the road (and in a place where the beer flows like wine), but Harry and Lloyd are distinctly, undeniably Rhode Island folk.
South Carolina
The Notebook 
That deep, abiding love that can only exist in a small state sheltered from the rest of the world? That can only come from a man like Nicholas Sparks? That can only be appropriately sold through a stunner like Ryan Gosling? Yep. 
South Dakota
Little Big Man
It's appropriate that South Dakota's pick is riddled with historical color… and some wacky adventure.
Tennessee
The Blind Side

A simple story of family, pride, acceptance, and overcoming adversity. Tennessee should be proud of this Oscar winner.
Texas
Dazed and Confused
Of course our Texas pick had to come from Richard Linklater, master of the Lone Star State. And which film better than his most iconic, nihilistic, dreamy high school graduation picture?
Utah
127 Hours
In Utah, no one can hear you scream. =
Vermont
Super Troopers
Call it a mindless stoner comedy, but the Broken Lizard debut packs a lot of that wintry Northeast flavor into its wild, witty mix.
Virginia
The Patriot
As if there was anything more Virginian. As if there is any state more American. 
Washington
The Twilight Saga
What's with the corners of this country being so dang creepy? At least this one has some glitter.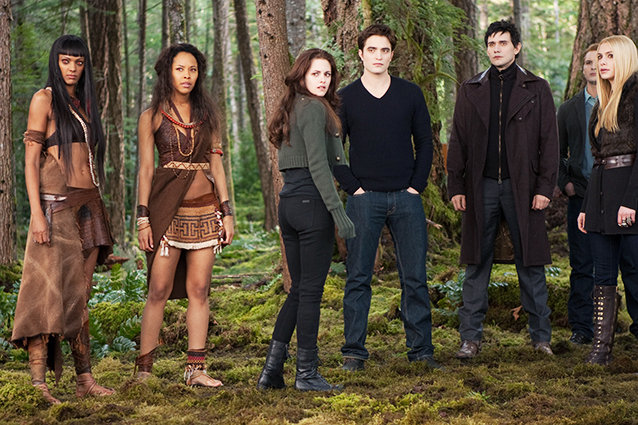 West Virginia
October Sky
Coal mines and dreams of escaping the coal mines. That's what ol' West Virginia was all about in its day.
Wisconsin
Lars and the Real Girl
There's something cold, eerie, and wonderfully beautiful about small town Wisconsin. Ditto Gosling.
Wyoming
Butch Cassidy and the Sundance Kid
Wyoming, even though we're not entirely sure that you actually exist, you might win the pot with the best movie on the list.
Follow Michael Arbeiter on Twitter @MichaelArbeiter | Follow hollywood.com on Twitter @hollywood_com
More:
Iconic American Foods in Iconic American Films
13 Celebs in Really, Really Ridiculously Patriotic Garb
Fourth of July Box Office Fireworks
---
From Our Partners


Stars Pose Naked for 'Allure' (Celebuzz)


20 Grisliest TV Deaths of 2012-2013 (Vulture)