8 Holiday Movies That Aren't Really About The Holidays
The holiday season has arrived, which means Christmas movies have started to play on TV constantly. But what if you're in the mood for watching something a little less jolly? These movies are set during the holidays, but their plots don't have much to do with the holidays at all. With no Santa, no elves, and no reindeer, you can still celebrate the season without feeling overwhelmed by Christmas cheer.
1. Love Actually
zebrange.tumblr.com
The British rom-com featuring interconnecting love stories takes place during the days leading up to Christmas. However, the holidays are an overarching theme that ties the stories together, rather than the main focus.
2. Home Alone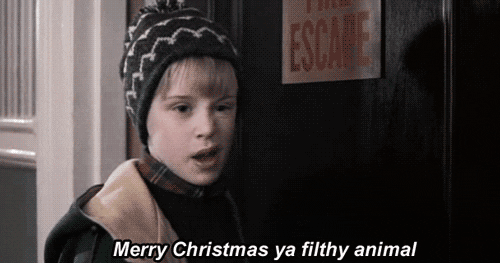 auguustraee.tumblr.com
While Kevin (Macaulay Culkin) gets left behind by his family during the holidays, this movie is mostly about convincing little kids they can stop a burglar with a few well-placed traps.
3. It's a Wonderful Life
stagebuddy.tumblr.com
One of the most iconic Christmas movies isn't really about Christmas? Yep. The holiday classic is about the life of George Bailey (Jimmy Stewart), and doesn't really involve Christmas until the very end.
4. Die Hard
Those who aren't into sentimental movies can watch Bruce Willis shooting people to get into the holiday spirit.
5. The Holiday
theflavourofyourlips.tumblr.com
Yes, the word "holiday" is in the title, but the movie is really about two women (Cameron Diaz and Kate Winslet) who take a much-needed vacation. They swap houses to get away from their normal lives, and both end up finding love.
6. While You Were Sleeping
Sandra Bullock is mistaken for a stranger's fiancée and ends up spending the holidays with his family. The holidays simply provide a backdrop for this cute romantic comedy.
7. Iron Man 3
This summer blockbuster surprisingly takes places over Christmas. But with so much action going on, there isn't much room for holiday cheer.
8. Rent
"December 24, 9 PM, Eastern Standard Time." Fans of the Broadway musical-turned-film will recognize these words, which start the story of a year in the life of a group of New Yorkers that begins and ends on Christmas Eve.