Honoring Freddie Mercury: The Best of Queen's Songs in Movies
Yesterday would have marked the 65th birthday of one of the most dynamic and talented singer/songwriters of the twentieth century: Freddie Mercury, lead vocalist of Queen. Mercury died twenty years ago this November of AIDS-related pneumonia.
Although it is a trite thing to say, Mercury's and his band's music have carried on with an enormous tenacity. The band's music remain heavily popular, making its way into the soundtracks of movies with an impressive frequency. As far back as the late 1970s, Queen's music has been employed to vitalize film. In honor of the triumphant artists Freddie Mercury, Brian May, John Deacon and Roger Taylor, Hollywood.com has put together a short collection of some of the best uses of Queen's music in cinema.
The Theme Song in Flash Gordon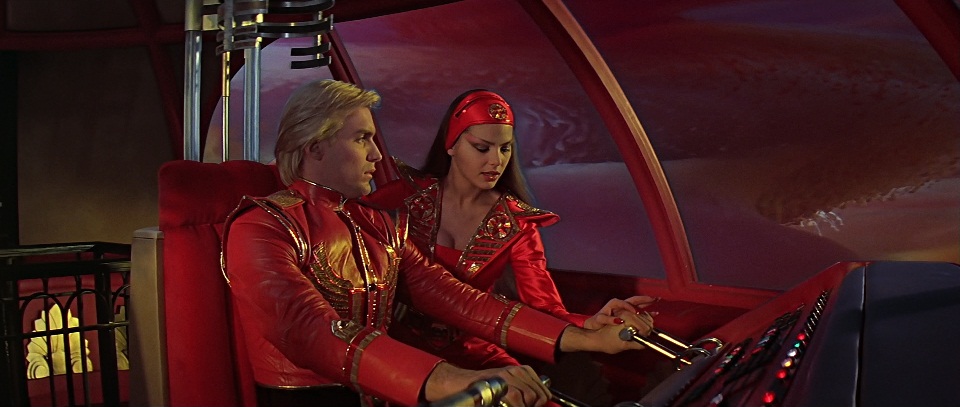 Flash Gordon was one of the first films to feature Queen's music, and still reigns as the one to do so most prominently. Queen composed and performed the theme song for Flash Gordon, whose titular hero, football star playing for the New York Jets, travels into space and saves the Earth from evil alien emperor, Ming the Merciless. Far more memorable than the movie itself is its theme song. Queen's composition is the musical epitome of hero. The song itself feels like it could save the universe (if need be). And perhaps, someday soon, it will.
"We Are the Champions" in Revenge of the Nerds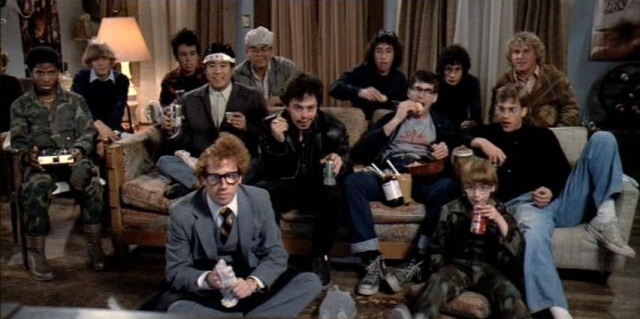 And heroism is once again personified by Queen's ballad "We Are the Champions." When the song erupted at the end of Revenge of the Nerds, the entire population of American nerds rejoiced. They had a theme song. They were warriors. They were champions. Other than the fact that some pretty heavy racial objectification leads up to this moment, it's a fond one for movie lovers. The nerds had their revenge, and a festive Queen anthem set the epic mood of this timeless victory.
"Bohemian Rhapsody" in Wayne's World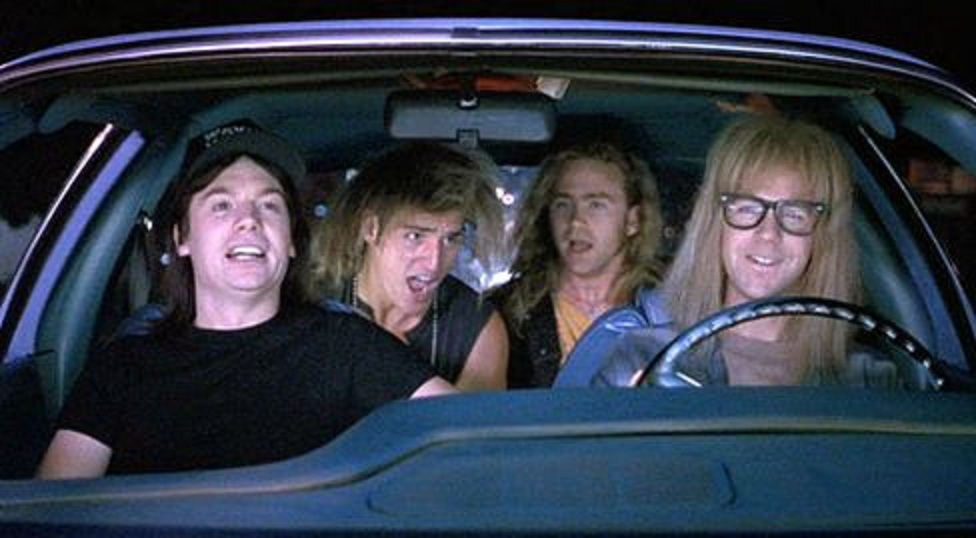 Wayne's World's triumphant rendition of Queen's unstoppable "Bohemian Rhapsody." Mike Myers and Dana Carvey zoom down the Illinois avenues, rocking out to a cassette tape while striving to keep their friend from vomiting in the car and dreaming about owning a life-changing guitar. "Bohemian Rhapsody" has had countless homages and parodies composed in its honor (including a reasonably entertaining one by the Muppets), but Wayne and Garth have put forth one of our favorites.
"Under Pressure" in Grosse Pointe Blank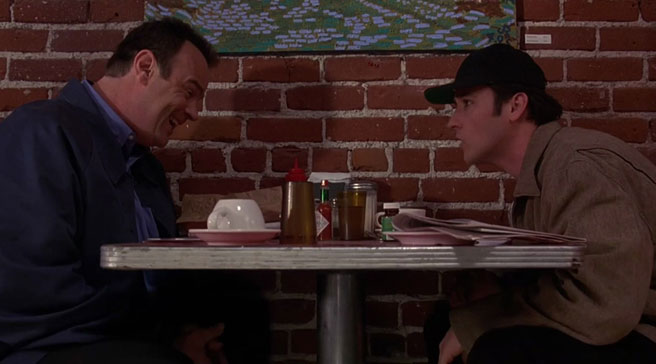 The incurably dreamy John Cusack wins our hearts even as a vicious assassin. In Grosse Pointe Blank, Cusack's character decides to turn his life around right in time for his ten year high school reunion. One of Queen's more intimate numbers, "Under Pressure" (recorded with the indestructable David Bowie), chronicles a climactic point in Martin Blank's (Cusack) escalation to decency. As he appreciates, for the first time, pure innocence when asked to hold a former classmate's smiling young baby, "Under Pressure" crescendos, and we all feel a little something we didn't expect.
"We Will Rock You" in A Knight's Tale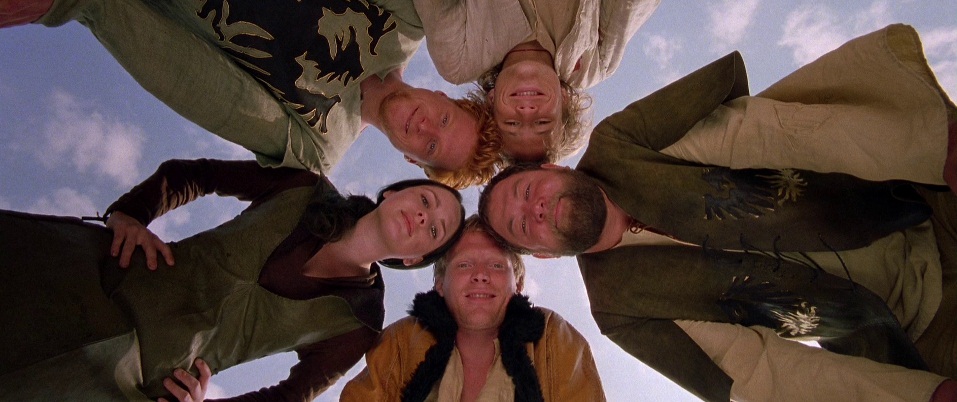 As Heath Ledger and his merry men emerged from the woodlands to the tune of Queen's amplifying "We Will Rock You," who among us did not wish, if only for a minute, that he could have been born in Medieval Times? The fun-for-everyone film A Knight's Tale really reached its high point when the stomp-stomp-CLAP refrain pervaded the arena. Knights, royalty, peasants, serfs, dragons… no matter who you are, you cannot resist singing along to "We Will Rock You." And A Knight's Tale paid the never-gets-old rock song palpable respect with its inclusion in the film's climax.
"The Show Must Go On" in Moulin Rouge!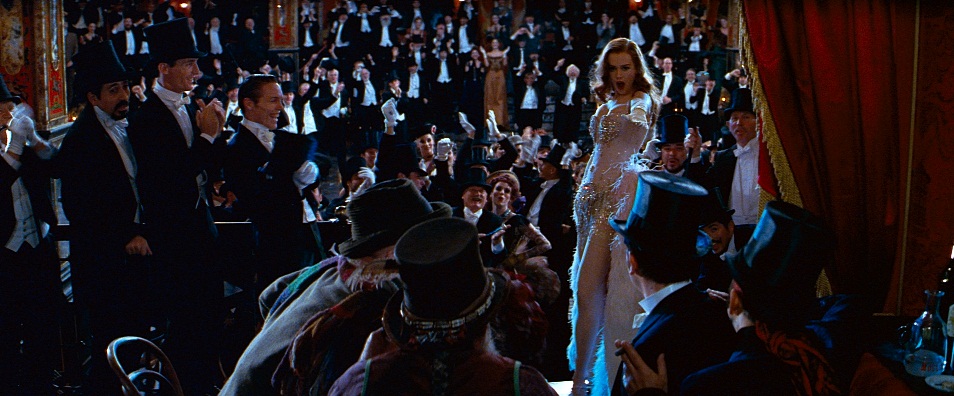 Queen is not only adventurous. They are not only righteous. Queen is also romantic. And Moulin Rouge!, a story of hearts free for the breaking, was the perfect partner for Queen's somber but powerful "The Show Must Go On." Of course, the performance is not done by Queen. Instead, stars Nicole Kidman and Jim Broadbent sing the song in character as cabaret performer and owner (respectively). In a musical inherently about show business, Queen's "The Show Must Go On" (one of the band's wildly unappreciated songs) rings extremely appropriate, illustrating the highs and lows of a, electrifying lifestyle.
"Don't Stop Me Now" (and "You're My Best Friend") in Shaun of the Dead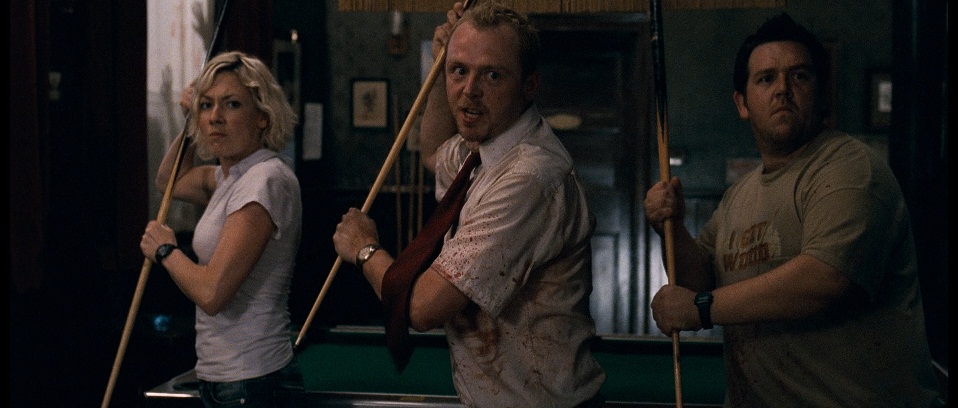 This is perhaps the most impressive infusion of a Queen song into a movie, primarily because of the choreography, which involves attacking an elderly (yet sturdy) zombie with pool cues in perfect rhythm. Shaun of the Dead's use of the song was both funny and exhilarating, and was possibly the best scene in the entire movie. Cowriters Edgar Wright and Simon Pegg (also the film's director and star, respectively) display a profound love of rock music throughout the movie, and seem to place Queen on a pedestal above the rest. The film closes with a sweet (albeit darkly funny) moment between best friends Shaun and Ed under the greatest friendship song ever written: Queen's "You're My Best Friend."