2014 Looks Like a Horrible Year for Horror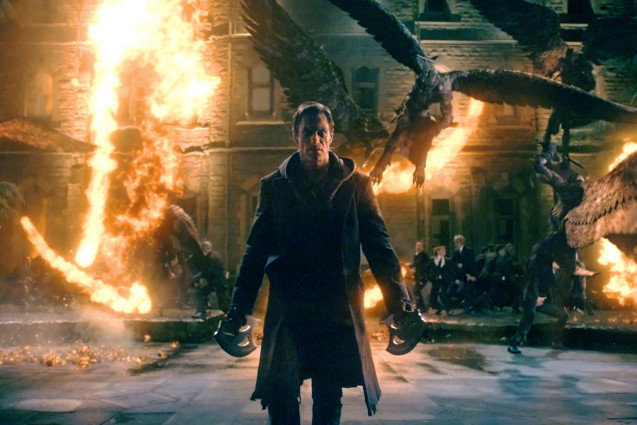 Lionsgate
2013 was a great year to be a horror fan. We saw the genre flirt with box office success and critical esteem alike, the latter being an area where horror has often come up short. This year, however, things are looking rather dismal for the films that go bump in the night, and the slate of horror films scheduled to be released through 2014 doesn't seem like it will bring the same high points that 2013's output did.
Although '13 had many horror hits, the big winner was almost indisputably The Conjuring, which not only became a massive box-office hit, but was also a critical darling thanks to director James Wan's virtuoso-like use of practical effects that proved that you could still pump fear into the hearts of audiences without drenching your film in CGI. The film also succeeded in making the sound of clapping absolutely terrifying. Aside from The Conjuring, other films also managed to delight audiences and critics. Horror anthology V/H/S/2 managed to mine fresh perspectives in the found footage film, a gimmick that has somehow outlived its 15 minutes and turned itself into a full-fledged sub-section of the genre. The film You're Next put an enjoyable spin on the home invasion movie, while turning it's micro-sized budget of one million dollars into profitable movie making. Although not a traditional horror, director Park Chan Wook's Stoker infused its family thriller story with a slew of chilling, often scary elements. 2013 even saw a litany of high profile sequels and remakes that, while not exactly critical successes, still managed to do great business at the box-office, including the Carrie remake, James Wan's Insidious: Chapter 2, and the Evil Dead reboot.
With all the good will that horror has gained in 2013, it's a shame that things are looking so dire in 2014. The genre is already stumbling out of the starting gate with Paranormal Activity: The Marked Ones, a Latino-marketed spin-off of the Paranormal Activity series that is failing to make much of a impression with critics. It also doesn't help that the film was released in January, the month where movies go to die. Next up we have Devil's Due, another generic-looking found footage film, and I, Frankenstein, which imagines what the classic Frankenstein story would look like if Mary Shelley was like totally way into Twilight.
The rest of the year looks just as bad with highlights (or lowlights) that include the continuation of the Paranormal Activity series proper  in October with Paranormal Activity 5, Eli Roth's The Green Inferno, and Dracula Untold, a Dracula origin story that will presumably feature the vampire buying his first starter coffin. Only the film Deliver Us From Evil, from Sinister director Scott Derrickson, looks truly intriguing. While nothing is set in stone, and one of horror films slated for this year could jump scare it's way into our hearts, you might be better off looking to Netflix for your horror fix in 2014.