Zhang Ziyi Was Awesome in 'The Grandmaster,' So Here's Some GIFs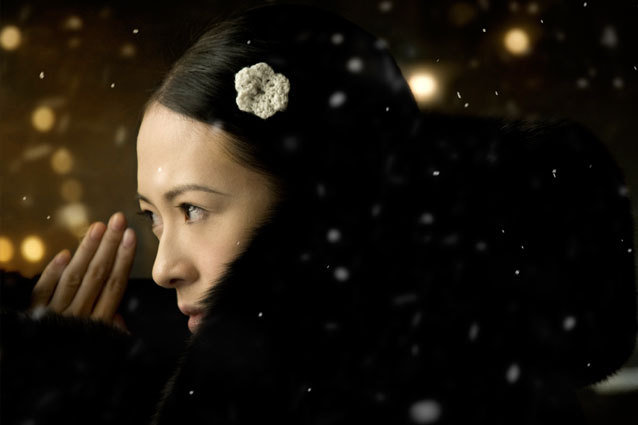 Zhang Ziyi has been a leading martial arts star for over a decade, and in her latest, Wong Kar-Wai's The Grandmaster, Zhang gives her stongest performance yet. After breaking onto the scene in Crouching Tiger, Hidden Dragon, Zhang has steadily starred in a string of epic kung fu tales, including Zhang Yimou's Hero and House of Flying Daggers. Even when she's not flying through the air with a sword or kicking multiple men at the same time, she rules the screen with just about everything she does. Here is the proof, in GIF form.
In Crouching Tiger, Hidden Dragon, Zhang proves that she can hold her own with a much more experienced kung fu master.

Via
She can even fight without looking while drinking tea.

Via
Just throw that sword sheath casually to the side, NBD.

Via
This girl likes her swords sharp.

Via
In Hero, she takes on Jet Li. When this much fierce comes at you, you best get out the way.

Via
Multiple attackers are no match for Zhang.

Via
In Rush Hour 2, Zhang knows martial arts and how to shoot a gun. Be afraid, be very afraid.

Via
Even when she gets stabbed, she makes it look kind of cute.

Via
Zhang's beauty is mesmerizing, especially in black and white.

Via
She's even beautiful when she's somber and saying some really depressing stuff.

Via
House of Flying Daggers showcases Zhang's dance skills in a gorgeous brothel.

Via
But that doesn't mean she doesn't also have amazing kung fu skills.

Via
Even though she plays a blind woman, Zhang can still fend off bad guys while balancing between two bamboo trees.

Via
Sometimes she can be pretty tricky with her assassinations.

Via
In Memoirs of a Geisha, she has one fierce head-turn.

Via
Here she is fighting in The Grandmaster, in which she is a total, utter badass.

Via

Via
Did we mention that she's awesome?

Via
More:
Prince Harry Is Not Impressed — GIFs
Supermodels Who Became Singers
'Mortal Instruments' Sequel Put on Hold
---
From Our Partners:


40 Most Revealing See-Through Red Carpet Looks (Vh1)


15 Stars Share Secrets of their Sex Lives (Celebuzz)