How Does the 'Divergent' Soundtrack Enhance the Movie?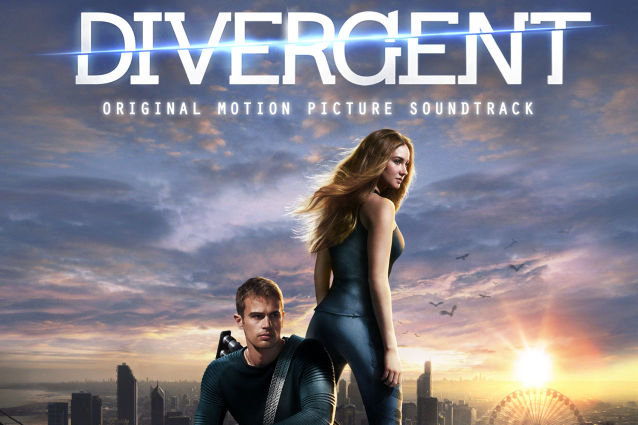 Interscope Records
There appears to be some kind of unwritten Hollywood rule that a Young Adult blockbuster must feature a soundtrack stacked with credible indie favorites. First, the Twilight phenomenon roped in the likes of Iron & Wine, Thom Yorke, and Vampire Weekend for three albums' worth of angst-ridden rock, then the Hunger Games series recruited everyone from Arcade Fire to Patti Smith to provide the musical backdrop for The Capitol's annual fight to the death. Now, it's Divergent's turn. The forthcoming big-screen adaptation of Veronica Roth's best-selling novels shows off its too-cool-for-school credentials with the release of 13 tracks which either helped to inspire or were inspired by its dystopian story.
Executive produced by Hans Zimmer, the collection doesn't initially seem to be too concerned about distancing itself from the film's obvious predecessors. Ellie Goulding – who recently lent her featherlight vocals to the Catching Fire soundtrack – shows up three times here, while the shadow of Coldplay's contribution to the aforementioned also hovers over the windswept rock of Snow Patrol's "I Won't Let You Go."
The formulaic hands-in-the-air EDM of superstar DJ Zedd's opener "Find You" isn't exactly the most encouraging start either. But thankfully, the soundtrack soon recovers to carve out an intriguing and unexpectedly Gallic-tinged identity of its own.
Indeed, it's the three French artists who make the cut who turn out to provide the album's standout moments. Anthony Gonzales's M83 – no stranger to futuristic sci-fi having composed the entire score for Tom Cruise's Oblivion – showcase their triumphant blend of saxophones and synth-rock on the widescreen "I Need You."
Parisian video director-turned-troubadour Woodkid's international profile will no doubt rocket after lending the gothic baroque rock of 2012 single "Run Boy Run" to the movie. While best-known for his work on Kanye West's Yeezus, techno producer Gesaffelstein remains as uncompromising yet hypnotic as ever on the unnerving and appropriately apocalyptic doom-hop of A$AP Rocky collaboration "In Distress."
The latter is also indicative of the album's stronger hip-hop flavour. Chance The Rapper provides a brilliantly off-kilter rap on the spacey electro-R&B of Pia Mia's "Fight For You." Plus, Kendrick Lamar justifying his MTV's Hottest MC in the Game label with an inspired reworking of Tame Impala's "Feels Like We Only Go Backwards" with the Australian psych-rock revivalists.
Of course, described by director Neil Burger as the inner voice of the film's heroine Tris, it's Goulding who takes center stage. The cloying balladry of "Dead in the Water" and new composition "Beating Heart," essentially a subdued retread of her US No. 2 hit "Lights," fail to leave much impression. However, London trio I See MONSTAS' remix of "Hanging On" is much more vibrant, substituting the original's ethereal qualities for grimy synths, punchy handclaps and pitch-shifted vocals.
If Goulding's omnipresence is supposed to set the tone for the film, then it seems unlikely that Divergent will be as thrilling as its action-packed counterparts. But if it's more in keeping with the rest of the impressively eclectic track-list, then Mockingjay may have a genuine rival for this year's biggest teen-friendly hit.
Divergent hits theaters March 21. You can check showtimes and purchase advanced tickets at Movietickets.com.
Follow @Hollywood_com