Universal Gives 'The Grinch' Another Go — with Animation!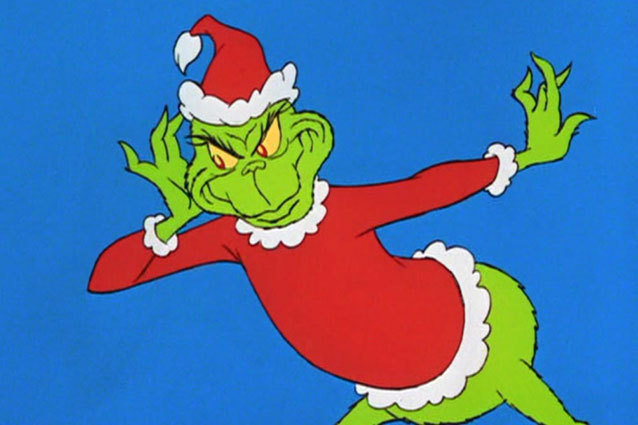 We all have regrets. Misguided teen-year antics, toxic romances, ill-conceived business ventures. And for the vast majority of humans plagued with crippling remorse, there is very little to be done in the vein of correcting old mistakes. Accepting our own personal histories and moving on with dignity is generally the best course of action. But Universal Pictures is opting instead to take a mulligan on one of its less appreciated ventures: The Hollywood Reporter reports that the studio is carrying forth with a second go at Dr. Seuss' classic How the Grinch Stole Christmas, this time as an animated movie.
Following a string of varyingly successful Seuss remakes, from its disappointing Jim Carrey-starring Grinch in 2000 up to last year's equally groan-inspiring The Lorax, Universal is handing the holiday property to first-time director Peter Candeland and Lorax and Horton Hears a Who! producer Chris Meledandri, with Seuss' widow Audrey Geisel on board as EP.
RELATED: Celebrating Dr. Seuss' Most Iconic Works
When adapting certain pieces of material, expansion and invention can be encouraged. People tend to be intrigued by new twists on old favorites; modernization and deconstruction can apply outdated classics to our present psychology, with a fresh voice. But when it comes to Dr. Seuss, fans seem to maintain the mindset of preservation.
People were miffed by the liberties taken with Carrey's Grinch and 2012's Lorax (the public's issues with Mike Myers' The Cat in the Hat, however, were more about the fact that it was just plain abysmal). A more faithful rendition of the story, in animated form, is likely to satisfy. Progress and creation are almost universally positive endeavors, but the attitude on Seuss seems to be that if it ain't broke, don't fix it.
That said, is the best we can hope for simply a regurgitation of the revered animated Grinch film already at our disposal (the 1966 Boris Karloff special)? Or is there a happy medium between Universal's past attempts and a carbon copy of the well aged cartoon stretched out over 90 minutes?
The adaptation of near sacred writing like Seuss' Grinch will prove a tricky task for Universal and Candeland. But working in their favor is the fact that, no matter how ill-fated a project this might be, the original story is just whimsical enough to make all fans think, "Maybe this one will work!"
[Photo Credit: Random House]
---
From Our Partners:
Justin Bieber Drug and Cheating Rumors?! (Vh1)