'Catching Fire' Actor Joins 'Ninja Turtles' as Raphael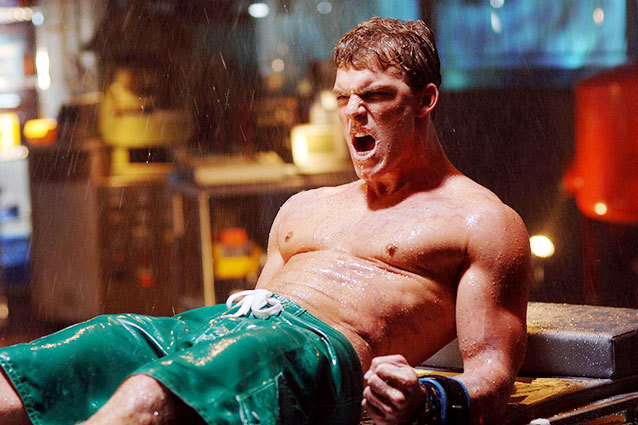 A square-jawed, chisel-faced, blond-locked twenty/thirtysomething actor who isn't Sam Claflin, Ryan Kwanten, Garrett Hedlund, Taylor Kitsch, Chris Hemsworth, or Armie Hammer has just been cast as Raphael in the Michael Bay-produced Teenage Mutant Ninja Turtles (titled, simply, Ninja Turtles). I know, even after naming all of those actors, there are still dozens more who it could be. So no more games: the actor in question is Alan Ritchson, who'll also be playing former District 1 tribute turned Quarter Quell contender Gloss in November's The Hunger Games: Catching Fire. Ritchson's best-known non-Hunger Games role was as Aquaman on Smallville. What a shock that he was on The CW.
Megan Fox to Play April, Possibly Ruin Childhoods, in 'Ninja Turtles'
To inhabit Raphael, Ritchson will give an all motion-capture performance, but he'll be interacting with a very much flesh-and-blood Megan Fox as April (with hopefully an emphasis on the flesh). He'll be directed by Jonathan Liebesman, whose previous efforts include helming Texas Chainsaw Massacre: The Beginning, Battle: Los Angeles, and Wrath of the Titans. So, yes, quality is guaranteed.
Do you know who Alan Ritchson is, and can you tell him apart from any of the young Stepford males currently jockeying for roles in Hollywood?
Follow Christian Blauvelt on Twitter @Ctblauvelt
[Photo Credit: The CW] 
---
You Might Also Like:


15 Oscar-Winning Nude Scenes


Young Jack Black Is Totally Unrecognizable