Meet the 'Burt Wonderstone' Actors Who Are the Backbone of Steve Carell's Career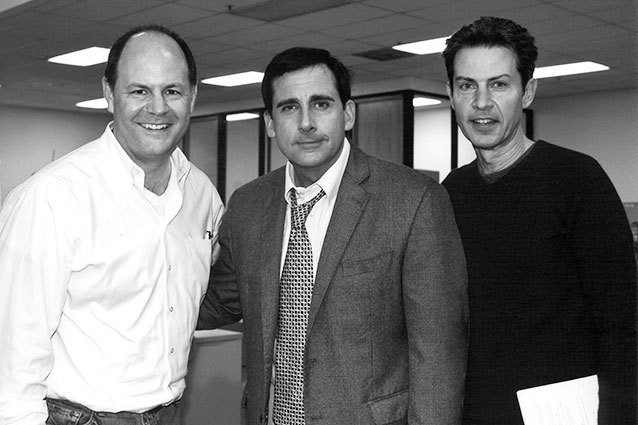 Charlie Hartsock, Steve Carell, and Vance DeGeneres of Carousel Productions
Halfway through the movie, The Incredible Burt Wonderstone sports a cameo that will have longtime Daily Show fans flashing back 10 years. After giving up on magic, Anton Marvelton (Steve Buscemi) dedicates himself to helping the less fortunate around the world, using the uplifting power of magic to raise their spirits. It's presented like a news segment and hosted by Vance DeGeneres — former correspondent to The Daily Show.
DeGeneres is rarely found in front of the camera (his credits including a few episodes of his sister Ellen's '90s sitcom). He's mostly a writer and producer — so how did he wind up in Incredible Burt Wonderstone?
Turns out, after he and Steve Carell left The Daily Show around 2003, their comedic collaborations only continued to grow. When DeGeneres moved to Los Angeles after his run on The Daily Show, Carell introduced him to one of his lifelong friends, Charlie Hartsock (who has his own TV roots: he's an Arrested Development alum). Hartsock and Carell were buddies from their days at Denison University, the two continuing to work together at Chicago's Second City. After connecting the two, DeGeneres and Hartsock worked together on a TV pilot. While it didn't take off, they continued to work together, becoming the logical pair to assist Carell in his biggest career move to date.
RELATED: 'The Incredible Burt Wonderstone' Review
"About five years ago, Steve got the offer from Warner Bros. for a production deal and he called both of us and said, 'meet me for dinner,'" DeGeneres says. "And at dinner he said, 'How would you guys like to run my production company?' We hemmed and hawed."
"We just started a pool boy business!" Hartsock jokes.
So not only are DeGeneres and Hartsock bit players in Burt Wonderstone (Hartsock can be seen marveling at the street illusions of Jim Carrey's Steve Grey early in the movie), they're also producers of the film and the backbone of Carousel Productions, a factory for comedic projects and anything that might fit the "Carell sensibility." They couldn't have been happier to take the job. "We were really excited by the prospect of the three of us starting a production company," DeGeneres says. "It's kind of a dream come true. Who gets that kind of opportunity?"
"Steve and I, through our improv days in college and then in Chicago, have very much had the same sense of humor and storytelling," Hartsock says. "[He] trusts us to read a script, and read it with an ear and eye to find the same things funny [and to judge] good storytelling in a way that he would."
"And hopefully not embarrass him too much," DeGeneres adds.
Both men note that their shift to working behind-the-scenes at Carousel isn't a terribly big change from writing or acting; the pair engages the development of project the same way they would if they were playing opposite of Carell or penning a scene for the actor. The only real difference is sometimes they have to say "no," even after months or years of working on a project.
"Comedy is so hard, so subjective," DeGeneres says. "The reason that Steve felt he could trust us is because he's worked with both of us for years and we share similar sensibilities. We gravitate towards the same things. The same things make us laugh. Whether it's a script like Crazy, Stupid, Love or Burt Wonderstone, we read them and it's something that might appeal to Steve. We read so much stuff, and unfortunately, most of it is just not right for us. Not only does it have to be right for Steve, it has to be right for Warner Bros. as well. We're trying to thread a fine needle."
RELATED: Is 'The Incredible Burt Wonderstone' Offensive to Professional Magicians?
Hartsock says when Warner Bros. approached Carell to form a company within their studio, it was a move to bring the "Steve Carell comedy" brand to the company. DeGeneres suggests that line of thinking has evolved, and Carousel develops a variety of projects — big and small, comedic and dramatic. Often with Carell planned for the driver's seat, but occasionally not. Warner Bros. has a first look deal that allows them to take on a movie — like in the case of Burt Wonderstone — or pass on one, in which case DeGeneres and Hartsock can find other means of bringing the film to production.
The key to which movies make it through the obstacle course of production is all about timing. In the case of Burt Wonderstone, the stars aligned. "Drew Worobow, our director of development, had lunch with someone at New Line, and he mentioned they had this script Burt Wonderstone, and would we want to take a look at it," DeGeneres says. "Anchorman 2 had fallen apart and Steve was really in the mood to do a big funny comedy. We had just done Crazy, Stupid, Love, and it's much more a grounded, not a straight up comedy."
John Francis Daley and Jonathan Goldstein's (Horrible Bosses) script for Burt Wonderstone had been floating around for a number of years. With the help of Carell, the project finally came to fruition. "What John and Jonathan did, that appealed to Steve, was they created a new and different world in this world of Las Vegas magic," Hartsock says. "It hadn't been done before. It's so ripe for being big and broad, but in a real sense." According to Hartsock, Carell would walk around the Vegas casino set his giant wig, makeup, a velour jump suit, and knee-high riding boots with rhinestones and go completely unnoticed. "No one batted an eye," he says. "Because that world exists. I think the character inside that world appealed to Steve."
For DeGeneres and Hartsock, the work at Carousel Productions ranges from detail-oriented tweaking to big picture development. They'll work on honing a script, making sure a movie like Burt Wonderstone has a great arc for Carell, while giving him new opportunities. DeGeneres says one of the reasons Carell was keen on doing the movie was for the chance to play a jerk — against type for the humble actor. "He's such a nice guy," Hartsock says. "And Burt is in a jerk zone of his life."
RELATED: 'Burt Wonderstone' Pics: Steve Carell in Sequins Is Magic
Then there's the job of diversifying their development slate so that Carell isn't saddled with the same type of movie time and time again. "Steve is an actor first, and then a comedian. A funny actor, on top of that," Hartsock says. "But Steve wants to be challenged by a role, by a character, by a director, by a film. And doesn't always want to play it, 'This one, you're the 40-year-old Virgin on a bus!'"
"That's in development," DeGeneres jokes.
Hartsock: "'In this one, you're the 40-year-old Virgin in the White House!"
DeGeneres: "'Mr President, your prostitute is here!'"
Looking ahead, the producing duo are developing scripts for Carell across the spectrum. The actor just completed the Jon du Pont drama Foxcatcher (a non-Carousel production) and is readying to head to Atlanta on March 18 to spend a few weeks shooting the resurrected Anchorman 2. Then in July, he'll shoot Mail-Order Groom, starring alongside Tina Fey. DeGeneres and Hartsock will co-produce through Carousel with Fey's own company, Little Stranger.
"I've known Steve for 35 years," Hartsock says. "He's an incredibly talented actor. To be able to find or develop projects that allow him to use all of his tools is fun. To have someone say, 'Wow, you're doing dramas right next to the comedies.' That's fun to do."
One anticipated project that we won't see in the future is Of All the Things, a feature version of a musical documentary centering on Dennis Lambert. "Of All the Things, unfortunately, is a project that we spent several years developing, and it's not going forward," DeGeneres says. "You hit a bump in the road, and it doesn't line up with the direction you wanted to continue in," Harsock adds.
RELATED: Steve Carell Magically Transforms into Nic Cage in 'Burt Wonderstone' Poster
But where one script ends, another handful of others continues to percolate. DeGeneres and Hartsock will continue producing their comedy TV show Inside Comedy for Showtime, currently in its second season. And they'll always have various feature projects in the works — even a few they hope will attract Carell as a director. One film they're particularly excited for is Magic Kingdom for Sale, an adaptation of the Terry Brooks novel that would see Carell as a widower who purchases a magical land for $1 million.
"We're currently anticipating a the producer's draft of the first draft," Hartsock says. "That's one of those films that has much more of a dramatic real man in it, in an extraordinary situation. It isn't going to be a flat out comedy. It'll be funny, it'll have moments of fun. But there's a guy going through an awful internal struggle in that film."
"We want to make the world as real as possible," Vance adds. "Let Steve exist in that world. Share the absurdity of it. Of a man from this world, what would happen if you found yourself in that world."
Carousel Productions is still in its infancy, DeGeneres and Harsock dedicating 100% of their attention to the company and its growing slate. Still, they have their priorities. They quickly have to find what parts they're going to take in any script that comes their way. Harsock's motto: "When I read a script, I look for the worst Hawaiian shirt character and plant my flag in that guy."
Follow Matt Patches on Twitter @misterpatches
---
You Might Also Like:


Topanga's Revealing Lingerie Shoot: Hello '90s!


Stars Who Have Lost Roles For Being Too Hot (Celebuzz)