'Inside Out' and the Celebrity Spectrum of Human Emotion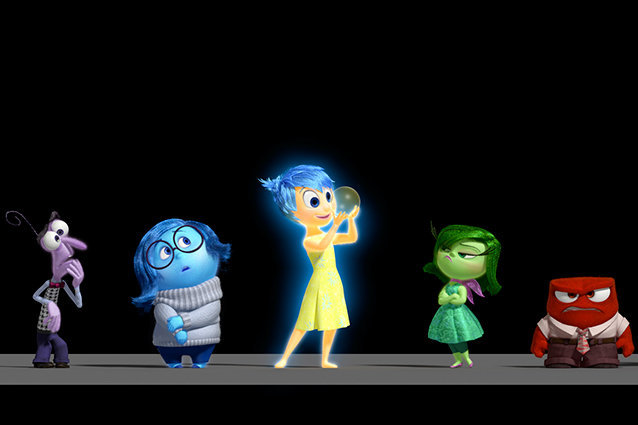 Walt Disney Studios Motion Pictures/Pixar
The next Pixar movie might not be released in theaters for another year, but it sounds like it's going to be a good one. The studio released the plot summary for its upcoming feature, Inside Out, which will journey into their most dangerous location yet: the human mind.
According to Pixar's website, Inside Out centers on 11-year-old Riley, who "is uprooted from her Midwest life when her father starts a new job in San Francisco. Like all of us, Riley is guided by her emotions — Joy (Amy Poehler), Fear (Bill Hader), Anger (Lewis Black), Disgust (Mindy Kaling) and Sadness (Phyllis Smith). The emotions live in Headquarters, the control center inside Riley's mind, where they help advise her through everyday life. As Riley and her emotions struggle to adjust to a new life in San Francisco, turmoil ensues in Headquarters. Although Joy, Riley's main and most important emotion, tries to keep things positive, the emotions conflict on how best to navigate a new city, house and school."
From the looks of it, Pixar has managed to perfectly match each emotion to an actor who truly exemplifies it. There's nobody in showbusiness angrier than Black, nobody more up-beat and bubbly than Poehler, and definitely nobody better at turning disgust into hilarity than Kaling. But they're not the only celebrities who are the human embodiment of a particular emotion; Hollywood is full of them. We've rounded up a bunch of our favorites, in case Pixar is looking to expand the cast for the inevitable sequel. 
Aziz Ansari – Excitement
Try and think of a time that Aziz Ansari wasn't completely enthused about something. You can't, can you? 
Michael Cera – Anxiety
Part of the reason why Michael Cera is so good at playing awkward, nervous characters is that he's never once seemed relaxed in any situation he's ever been in. 
Aubrey Plaza – Boredom
Whether she's playing April Ludgate or just being herself, one thing's always certain: Aubrey Plaza could not be less interested in anything going on around her. 
Kanye West – Confidence
Nobody in the world loves Kanye West more than Kanye himself. We should all aspire to believe in ourselves that much. 
Charlie Day – Mania
Need someone to shriek about spaceships or eat some cat food? Charlie Day's your guy, from his mile-a-minute speech patterns to the wild look in his eyes to his inherent unpredictability.
Morgan Freeman – Calm
Spa days, crashing waves, smooth jazz… all of these things are somehow less serene than Morgan Freeman. He's a human lullaby. 
Larry David – Exasperation
If anyone can find a reason to be annoyed in any given situation, it's Larry David. He's made a living educating audiences unto many grievances that would never have otherwise occured to us. 
Jimmy Fallon – Passion
Some people give 100 percent to their projects. Jimmy Fallon gives 100 percent to other people's projects, and still has enough enthusiasm left over to do his own show. 
Taylor Swift – Love
You might think you've been in love, but Taylor Swift has four albums worth of songs that would beg to differ. She's turned puppy love into an art form. 
Ken Watanabe – Awe
Anyone can stand by and watch Godzilla trample a city, but it takes true talent to steal the film out from under him with a single, wide-eyed look. Ken Watanabe has that kind of talent.