'The Heat' and 'Bridesmaids' Director Paul Feig Talks About Keeping Women at the Forefront of Comedy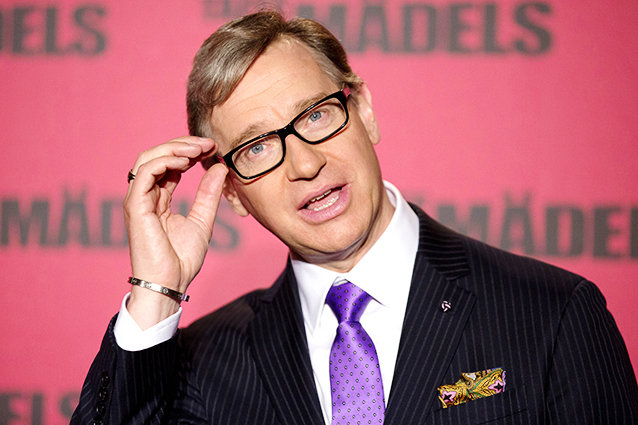 Riding on the success of Bridesmaids, director Paul Feig decided to keep his focus on showcasing the often underappreciated comic sensibilities of women, rounding up the hit comedy's breakout star Melissa McCarthy and big screen vet Sandra Bullock for his upcoming buddy cop flick The Heat. If a troop of hilarious women can reel in mad dollars as an incompetent wedding party, why not as a pair of off-kilter police officers? 
I caught up with Feig, who has big plans for launching female comics into the forefront of the entertainment world — a plan he has carried out with Bridesmaids and his Lindsay-driven Freaks and Geeks. Feig explains that it was the appeal of affixing the traditionally male-focused police officer trope on two ladies that drew him into The Heat… that and the oddly compelling original billing for the film, "The Untitled Female Buddy Cop Comedy." Feig reveals, "I really wanted to keep that tone of comedy of having strong women in the lead roles. And I've always wanted to do an action comedy, so it was literally everything on my plate I wanted to do all in one."
By catapulting female comedic superstars onto the big screen, Feig aspires for "men to come away from it going, like, 'I'm not afraid of two women being funny.' And not fear[ing the fact] that seeing two women on a poster means that it's going to be a chick flick, quote unquote. These are just two very funny people and you're just going to laugh for almost two hours."
And it's true: The Heat is nowhere near a "chick flick." McCarthy's character blurts the f-bomb about 190 times in the movie, but Feig believes it's never really done in a grotesque or aggressive manner — it's just the way she expresses herself. In fact, Feig thinks its one of the funniest things if you can swear effectively. He even gushes that it's "a great pleasure that we got in a million f**ks and s**ts and everything else."
Inspired by 48 Hours and Beverly Hills Cop — Feig was a huge fan of Eddie Murphy's as a child — the director aims for The Heat to be a movie that stretches beyond comedy alone. With the objective to balance humor with Heart, Feig shares his work ethic, stating: "When you're first putting it together, you really look at it like it's a drama, and you really work out the story beats, [asking,] 'Dramatically, how does this work? What is the emotional journey these characters are on? Why do they care about each other? Why should we care about them?'"
Feig continues, "If you get that solid base working, then the comedy can just come out of it. You can find ways to do it in a funny way. That keeps you invested in the characters. If you're just going joke to joke and people are acting silly and the bad guys are kind of silly, then you're only as good as the jokes. And I think, as an audience, you get kind of bored, too. You really need to invest in the story."
But long before being the skilled craftsman of stories comedic and dramatic alike, Feig dipped his feet into the acting pool. Feig had "a pretty good 15-year run as a professional actor on a regular bunch of TV series that all got canceled." We might fondly recall his role on the beloved hit show Sabrina, The Teenage Witch, but Feig said being written off after the series' first season is actually what influenced him to finally go full-time behind the camera. Feig always dreamed of becoming a Woody Allen figure — writing, directing, and starring in his own films. 
"As an actor, I always felt really limited to what I could do. I had things I was good at, but I'm not De Niro, or someone like that," says Feig. "I was always going to be, like, the charactor-actor guy, versus all these really amazingly talented people who I'm a fan of. If I can get them to work on something I'm putting together, and make them their best, I get way more juice out of that." But even though Feig is offscreen, he still dresses like a movie star — it's a laborious task to spot him not clad in suit and tie.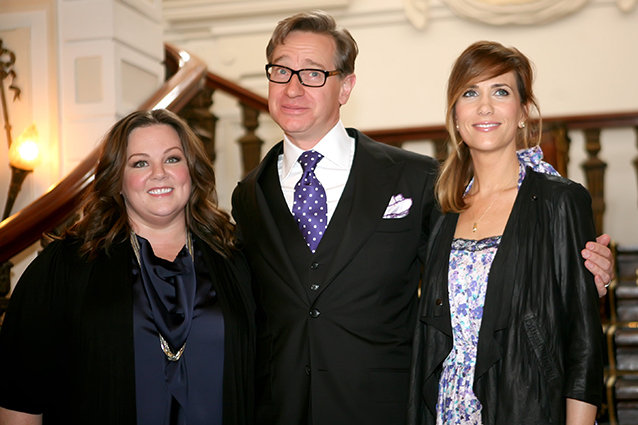 The famed director first crawled into the entertainment industry as the creator of the cult classic series Freaks and Geeks , with his renowned friend Judd Apatow as executive producer. Despite how he's buddy-buddy with Apatow, Feig neglected to let his This is 40 director compadre take a look at The Heat prior to its premiere. Feig confessed, "I almost didn't want him to see it. I'm afraid he's going to find something [negative], so I'm like, 'Ah… I don't want to hear it.' It's too late! But I think he'll like it."
Along the way of his ascension to Hollywood, Feig enlisted actor Ben Falcone to act in Unaccompained Minors. Falcone, Melissa McCarthy's husband, not only snagged the role alongside McCarthy in Bridesmaids, but also pops up in The Heat. He doesn't have the best of luck wooing his real life wife this time around.  "We were like, we have to get Ben in there somewhere. I like the idea of going the opposite way [from Bridesmaids], where he gets rejected."
Unlike a plethora of comedies that put the storyline on the back burner, Feig aims to integrate an emotional toll into The Heat. "There needs to be a sadness mixed in among the happiness." But even in the midst of a dramatic, heart-wrenching scene with McCarthy's character, Mullins, Paul loves when there's "a big laugh in the middle of this very kind of heavy sad scene," and long as "it's very organic."
Well yes, The Heat truly reels in some big laughs. Yet, while the film triggers a serious case of giggles, little bits of hilarity that burst in serve a double purpose — expanding on the characters, Ashburn (Bullock) and Mullins, that screenwriter Katie Dippold brilliantly created.  
Feig, who, surprisingly, was a childhood magician, believes that the hilarity that ensues isn't just shoved in for the sake of pure laughter. "This stuff comes organically out of the character, and that's what I like about it. Ashburn is so dedicated to her job, so she wouldn't have time to have a cat. But she uses the neighbors' cat. And just the fact that Melissa's character is so into her job and what's right and wrong that when she's faced with something that's not, she just lashes out at everybody… it feels very organic to me."
It is evident that a common trait throughout Feig's work is this ambiance of authenticity. Despite the tickling chaos and obscenity Feig brings to the screen, a sense of compassion and tenderness still weaves its way throughout his films. Even in the midst of The Heat, when the duo is spotted at a bar (drunk off their asses, with their noses scotch-tapped like their piggies), a feeling of warmth and camaraderie arises, which leaves audiences not only in hysterics but also with a dear appreciation for friendship.  
The Heat brings the action into theatres June 28th. 
Follow Cori on Twitter @gimmegimmeCOR
Follow Hollywood.com on Twitter @Hollywood_com
More:
Why Can't We Have a Legitimate Female Spy Movie?
'The Heat' Red Band Trailer'Bridesmaids' Duo Judd Apatow and Paul Feig To Re-Team 
---
From Our Partners


Stars Pose Naked for 'Allure' (Celebuzz)


20 Grisliest TV Deaths of 2012-2013 (Vulture)