The First 'Into the Woods' Trailer Looks Pretty, But Where's The Singing?
The wishes of theater nerds everywhere were granted Thursday when they were finally able to get their first look at the long-awaited, highly-anticipated film adaptation of Stephen Sondheim's Into the Woods. Well, at least a few of their wishes were granted. While the clip introduces all of the major characters, gives us a glimpse at the spooky, magical atmosphere and shows off what Meryl Streep would look like as a fairy tale witch, there was one key element missing from the teaser: there was absolutely no singing. Considering that this is an adaptation of one of the most iconic musicals of all time, that's a bit of a problem.
There was no doubt that Into the Woods  would turn out to be a grand, visually stunning affair. After all, this is a Disney production, and fairy tales are their specialty. Even those who were worried that the studio wouldn't be able to handle the darker elements of the play were comforted by the dragons, thorns and cursed castles that made up the Maleficent set. But the one thing that fans were concerned about is whether the cast would be able to handle the demands of Sondheim's difficult score.
Sure, we know that Daniel Huttlestone knows his way around a classical theater score, and that Anna Kendrick and James Corden have an impressive set of pipes on them, but there are still plenty of cast members whose lack of musical theater pedigree makes us a bit nervous. Streep might be the greatest actor of her generation, but even she had difficulty with the songs in Mamma Mia, and those are pop songs. Johnny Depp might be creepy enough to play the big bad wolf, but his last stab at a Sondheim musical didn't fare so well. Giving fans a look at some of the musical performances in the film would be the best way to assure fans of the musical that Into the Woods  is in good hands, but avoiding the score completely has just done the opposite.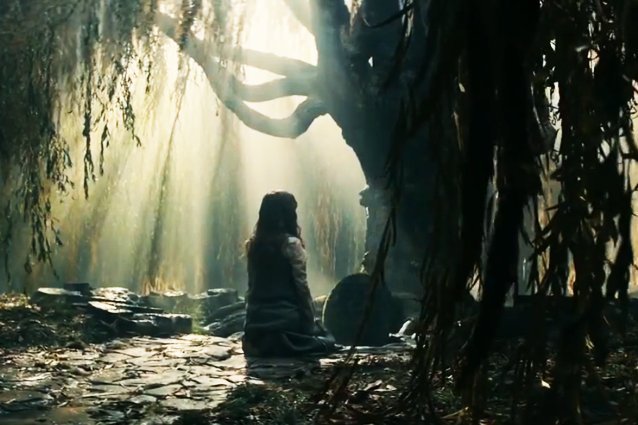 Walt Disney Studios
We know it's only a teaser, but not featuring any singing whatsoever doesn't seem like a good omen. It feels almost as if the producers are deliberately trying to hide something from moviegoers, whether it's that the soundtrack isn't done being mastered, or that some of the performances aren't up to snuff, or even the fact that Into the Woods is a musical in the first place. If theater nerds really don't have anything to worry about, why not pop a line or two into the trailer? We know what creepy fairy tale forests look like; that's not why we're interested in seeing Into the Woods.
Of course, we might just be getting all worked up over nothing. Perhaps the producers felt it was better not to try and cram songs into a two-minute space, or they want to get people curious about the film before they can properly showcase all of the talent they've got. Or maybe they're just trying to grab the attention of the people who loved Maleficent but might not be interested in a musical otherwise. But it's hard not to be a little nervous about the way such a difficult production will turn out if so much is still being kept under wraps.
However, we are willing to be a little less critical if the next trailer actually features Stephen Sondheim's name in it somewhere. Into the Woods  opens – hopefully with a bit more singing – on Christmas Day.