Why Guy Pearce Turned Down "Daredevil,' But Couldn't Resist 'Iron Man 3'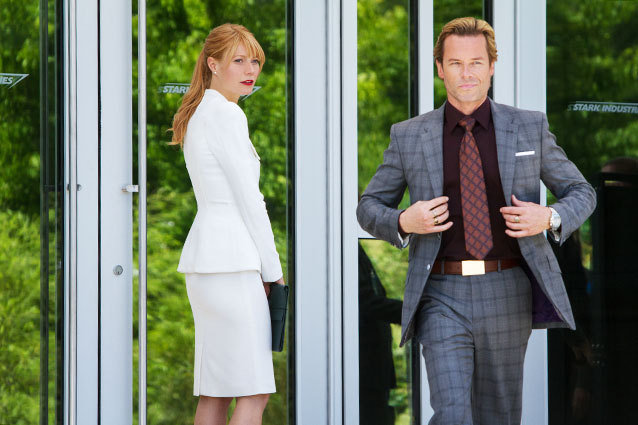 Little known fact: Guy Pearce was approached to play that lead role in the 2003 comic book adaptation Daredevil (the part that eventually went to Ben Affleck). According to Pearce, "playing a comic strip superhero was, some years ago for me, totally out of the question" back when he was courted to play the red-suited, blind superhero. Times have obviously changed, as this weekend he'll be seen opposite Robert Downey, Jr. in Iron Man 3.
"I think I've broadened my horizons a bit," Pearce tells Hollywood.com. "The difference obviously is that the Iron Man films have proven to be really interesting and really fun and really cleverly done."
Pearce, who recently appeared in Prometheus, Lawless, and the Sundance premiere Breathe In, believes that "a lot of comic book movies out there that don't really work" but Marvel's Iron Man franchise has towed an "interesting line between reality and fantasy" while putting its character first.
In Iron Man 3, Pearce plays Aldrich Killian, mastermind behind a regenerative body enhancement process known as "Extremis." When he arrives on the doorstep of Tony Stark (Downey, Jr.) and Pepper Potts (Gwyneth Paltrow), he's your typical genius playboy with a shimmer of pure evil in his eye. But 13 years prior, when he first met Stark at a fateful New Year's Eve party, he was mangy, awkward, and unfit for the future Iron Man's attention.
"Here is someone who wants to get out of the hole that he's in," Pearce says. "He realizes he's annoying, he realizes he's irritating, he's constantly being rejected (and obviously we see in the film that he's rejected by Tony Stark). I think when someone you admire so much turns their back on you, it's almost like a final straw."
Pearce likens Killian's evolution to the modern obsession with plastic surgery. For a fragile personality, there can be an addictive nature to change. "Doing one thing to solve a problem and then thinking you need to do something else because there's another problem and do something else because there's another problem and never knowing where to stop. To me, it was an image I had in mind when looking at Killian and how far he takes it. Getting to the point where he just wants to take over the world," explains Pearce.
Killian may be Shane Black's subtle riff on "comic book fan culture," but Pearce is quick to clear up that it's not symbolically all-encompassing. "Here is someone who clearly has a lot of social difficulties, he's physically disabled in a particular kind of way, [and] he's extremely enthusiastic and ambitious. It was a tricky character to play," Pearce admits. The actor says he's portraying a "geek," but not every geek. Pearce says he's run into a similar situation before where one character resonates as a larger metaphor for audiences and that that's not the case with Killian. "When we did Priscilla [,Queen of the Desert] and a lot of people stepped forward and said, 'you guys are trying to say that all gay people are like this.' 'Well, no, I'm just portraying one character. Not the entire universe of gay characters.'"
Much like Prometheus and Lawless, Pearce goes under the guise of makeup and wigs to bring the pre-dapper-makeover Killian to life. The actor says that he enjoys "the possibilities of costume and makeup and the ability to change yourself on film" and is always surprised when actors look exactly the same from movie to movie. The transformation is part of the supporting character appeal — and for many years, it was the only type of role he wanted to take. He says the reason he took Iron Man 3 and not Daredevil was that he "wasn't asked to play Iron Man himself." At the time Daredevil was casting, he was worried about becoming "a leading man."
"I struggled years ago with the whole prospect of being pigeonholed," he says. "People pounce on you straight away and say, 'Oh, you're a good looking guy, we're going to shove you into leading men roles.' I really fought against that." Pearce recalls getting a taste of leading man work during his time on Australian TV show Neighbours. It left him craving to go back to the stage, where he got his start. "As a kid I did a lot of theater and played a lot of varied roles and I got much more satisfaction out of doing that. So I fought against playing a leading man role. I didn't think that was me. I didn't have anything to say."
"Now if it comes along, I'm more able to go and do it and I'm not afraid that I'll get stuck there," Pearce says of his decision to enlist for Iron Man 3. Pearce recently starred in the action vehicle Lockout where he both had a blast and nailed the persona of gruff, antihero Snow. Pearce says he's come to a moment in his career where he can perform and feel fulfilled tackling the leading man role. "I feel like I can do that (not that I'm doing it that often). I can do something like Killian in Iron Man and think that my versatility is still afloat."
So the ball is in Marvel's court now. Daredevil reboot, anyone?
Follow Matt Patches on Twitter @misterpatches
More:
Daredevil Can Join the Avengers Now
A Non-Geek's Guide to 'Iron Man'
Loving Gwyneth Paltrow in 'Iron Man 3'
---
From Our Partners:


Miley Strips Down in Raunchy Shoot (Celebuzz)


Actresses Without Teeth Tumblr Is Creepy, Amazing (vh1)